Tell Laura l love her!
9th March 2014
... Comments
---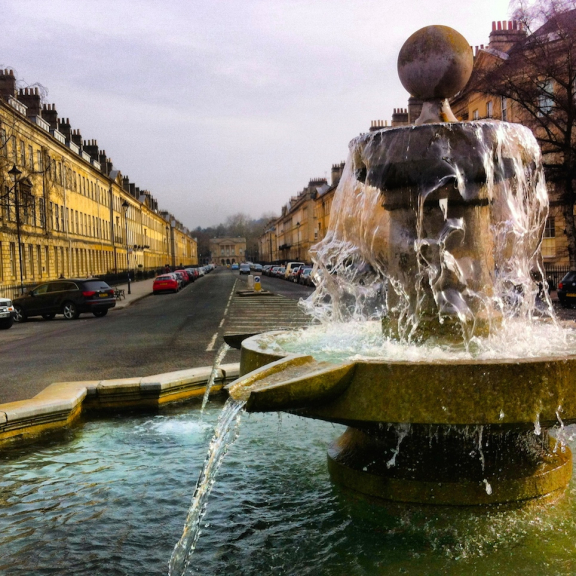 How great to see the fountain in Laura Place back in action. I cycled up Great Pulteney Street into town on Saturday and nearly fell of my bike with shock at the site of water flowing again. How refreshing it looked as the sky cleared and some warm spring-like sunshine crept up this grand avenue to burst into millions of sparkling water droplets falling into that old dried up and weed infested basin.
Drop the poetics - and back to the realities. We - as in l and some others -  were hoping the stone mason apprentices from the City of Bristol College would be doing a restoration programme this year but that has had to be put off. At least the old girl is gurgling again after a bit of a clean up and a tinkering with the pump.
 The central basin here is of 1877 by A.S.Goodridge and the present fountain from 1977. It's affectionately known as 'the ashtray' and l was told students once put a giant fake cigarette in it during Rag Week.
Shame Bath doesn't seem to do rag anymore. Everything - unless its rugby or road racing - seems to be so muted here. Even the current Literature Festival isn't exactly emblazoned across the city centre. Yet they are happy to plaster the place with yellow road signs warning of road closures for the 10 k.
Nothing wrong with Bath's wonderful sporting connections but let's not let its history and heritage stop us putting up some flags and bunting to let our million-plus day visitors know we are alive and proud of our city and its attractions.
Putting on my Virtual Museum director's hat again. Did you know that a fountain wasn't the first thing the residents of Laura Place and Great Pulteney Street had in mind for that spot.
Laura Place consists of four blocks of houses around an irregular quadrangle and was built by Thomas Baldwin and John Eveleigh between 1788 and 1794.
The fountain in the middle was not part of the original plan and was added in the late 19th centuy. After Great Pulteney Street had been completed local residents got together and successfully raised funds to build a grand column - a bit like Nelson's lofty perch in London.
They had actually started work when they realised it would tower over their homes and promptly changed their minds. So the partially-built structure was pulled down and replaced with a fountain.