Stress Awareness Week
13th February 2013
... Comments
---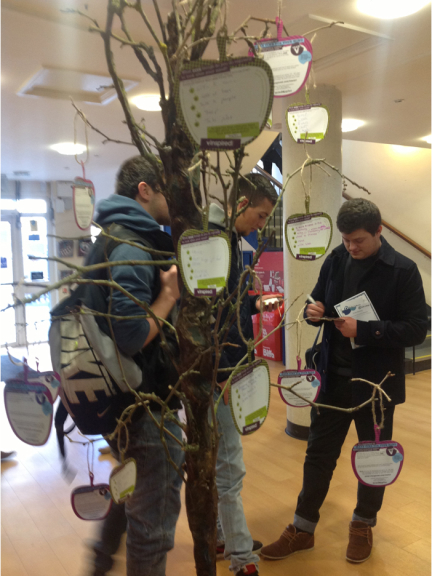 Team V visited the college in an attempt to raise awareness with the students about stress and what activities people do to keep their minds healthy and stimulated. To do this, Team V created 'Mind Apples' to place onto their carefully hand crafted tree. The tree allows people to place their thoughts and suggestions about how to keep a healthier and stimulated mind.
During the trip to Bath City College there was a total of 34 Mind Apples filled out and hung up on the tree. The top suggestions for people to relax their minds included;
Exercising
Spending time with friends and family
Listening to music
Reading
Other activities which people participate in include horse riding, cooking, drinking tea and meditating.
Team V asked the students of Bath City College what they were intending to do to continue to keep their minds stimulated, healthy and happy. The most popular responses involved having more 'me' time – the majority of people believed they did not spend enough time on themselves and relaxing. The other most popular response was exercise - this is a key and ideal way to help stimulate your mind from stress and keep your body active and healthy.
The event overall was a success in finding out what people did to try and relax their minds, the students at the college were more than happy to talk to Team V and after questioning many discovered there were stresses in their lives which after talking to Team V they were more confident to tackle.
From the 11th – 15th February, Team V will be at Bath University between 10:30 – 14:30 talking to the students about the campaign, how they can get involved and things they can do to keep their minds healthy and stimulated.
Twitter - @TeamVBath
Facebook – Facebook.com/TeamVBath