Second fish landed on Hunstrete Lake! 05/07/14
13th July 2014
... Comments
---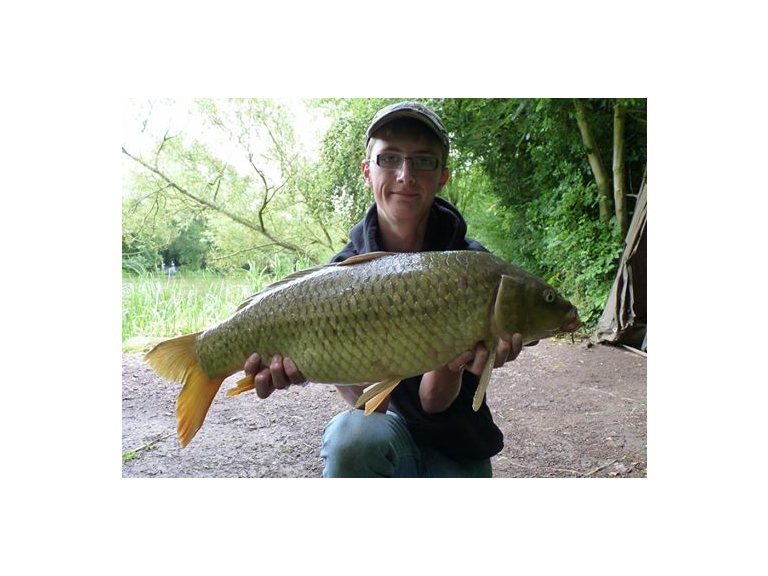 Hey there everyone its Luke here! It was about time that I got myself back on Hunstrete Lake, it's my target water for the year! I have recently being given the lake a bit of a rest. I fished on there all through the winter and managed to catch my first fish at 21lb 10oz in March. After fishing the lake for quite a few months, I went over onto the easier waters as I wanted to get a bend in rod after not having much action for a while! But now its time to get the rods back out on there! Over the last few weeks I have been getting back on the lake, putting in a few sessions here and there! My first proper day session was on Sunday (29/6/14), I didn't managed to get out on the Saturday as I had a few family commitments but I finally got my rods out on the Sunday! Surprisingly for a Sunday the lake was empty! The weather was looking carpy and there were fish crashing and cruising everywhere around the lake. I arrived at the lake fairly early at 7:30am, to only find two anglers on the lake. After having a chat to them for a quite a while I decided that I was going to fish a peg known to the locals as ponderosa (I think that's how you spell it…).
My tactics for the day was to fish the snowman set up over a bed of chopped boilies and whole 15mm boilies. I wanted to try something different. Usually I would use pva bags and a few freebies but I believe that it's all about trial and error. You need to keep trying new things until you figure out something that works for you. Just after casting out my mid water rod, a massive fish boshed right out over my spot! This would bring confidence to anyone but this was short lived as a few hours went by with nothing but a few liners on the rod. My left rod was being fished in the right hand margin, just off a tree. I did this because I wanted to be different! The majority of people from what I understand all fish the right hand margin, which made the left hand one worth a go! On this rod I had exactly the same set up as my other rod, with a scattering of boilies around it.
After sticking out with my chosen tactics for the day, no fish managed to grace my net… I had a few liners and that was all. Around lunch time, I did fish a zig for a couple of hours trying to catch a few of the fish just below the surface, but they were more concerned about sunning themselves than feeding.
Saturday 5th July
On Saturday I headed back down to Hunstrete Lake with a few new ideas in my mind. As you probably have been reading over this blog. I believe that it's all about being different, it was time to put a few new ideas to the test! After arriving at lake, there was a few anglers fishing in the bowl. I had a quick walk around the lake and noticed that there was a few fish in the peg 8 snag. I don't usually like fishing locked up, but I decided that it was worth a shot to try and catch one of these chunks!
The tactics for this session was to fish one rod to the snag and the other rod in the right hand margin. It was a fairly warm day, there were fish up in the middle but they weren't interested in feeding! So my theory was that the fish that wanted to feed would come into the shallower water (in the margins) and feed there. I could see a lot of fizzing coming from the right hand margin, in the Lillie pads that line the bank. This was clearly fish feeding!
The rigs I was using were fairly simple, because that's how I like to keep my fishing. Just a single hook bait, on a hair rig. No fake corn, or anything to top the boilies with because I think that may look quite suspicious. So these rigs would just fit in with the freebie boilies I was going to spread around the hook baits. So that was the plan of attack, it was now time to sit back, relax and hope for the best! After around 1.5 hours I was sat texting on my phone when I heard a couple of beeps on my left Delkim. I looked up and saw my H-Gun rod bent right round, I had a fish on! I ran over and picked up into the fish and began the challenge of getting the fish out of the snag. This put all of my fishing skills to the test! I managed to get the fish out after around a minute of playing the fish in the snag. It then came out into mid water, just as I was about to net the fish, local angler Huw Jackson walked by and gave me a hand! Cracking chap! So here it is, my second fish from Hunstrete Main Lake at 14lb 2oz. One of the smaller commons from the lake in mint condition! If you look close enough you can even see its barbules!
An absolute cracking fish after having the rods out just over an hour! Cheers Huw for giving me and hand and taking some photo's for me! After catching this fish my swim was looking good for a bite! Throughout the whole of the day I was having liners and I did manage to get two runs which didn't result in a fish sadly. But I was satisfied in catching the fish that I had! There was no point in trying to be greedy on a hard water. Any fish is a privilege to have on this historical water! Until the next time! Tight Lines & Wet Nets! Luke