Great day's fishing at Hunstrete! 25/07/13 - Bath Angling
27th July 2013
... Comments
---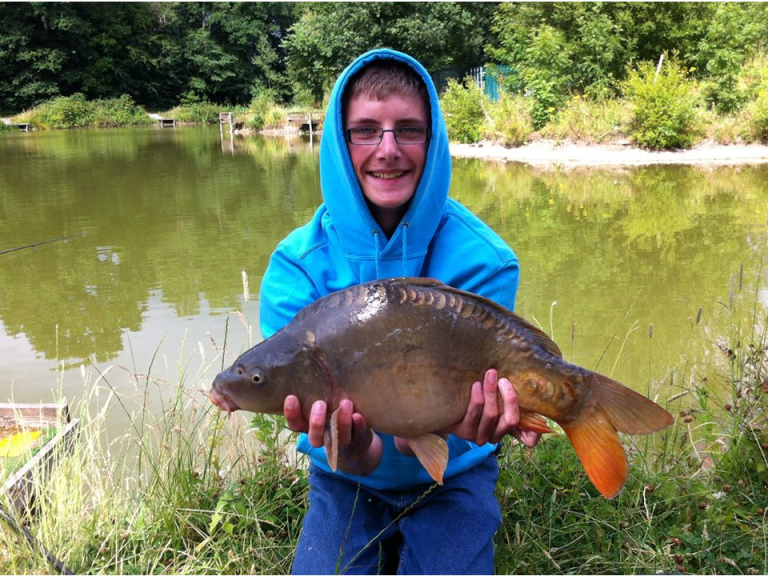 Hey its Luke here from Bath Angling! This is our first ever blog on The Best of Bath, so let me explain! Riki and I are aged 15 (nearly 16!) and run a community fishing page for Bath, called Bath Angling. We set it up in January this year and you can find out about fishing in the local Bath area by logging onto our website www.BathAngling.co.uk . Expect to see loads more blogs from us on The Best of The Bath!
So getting back to business on Thursday (25/07/13) we had a day's fishing at Hunstrete which is part of the Bathampton Angling Association. You have to buy a membership to fish on their waters. We started the day on Withy Pool, and we met Jason from Supreme Baits and bought a Kilo of their orange and aniseed boilies! They smelt absolutely amazing! We set up on the far bank of Withy Pool and with our new bait from Supreme Baits I casted one of my rods to the point of the island and one mid water. Riki did the same. Within about 5 mins my island rod alarm was going crazy, I striked into the fish and caught this around about 10lb Carp.
A great way to start the day! After putting the fish back into the water Riki's island rod did exactly the same. He caught this 14lb Common Carp, he was very lively even once we had netted it.
So it had been about 15 minutes and we had 2 fish which means it wasn't a blank! They were both caught on the new Supreme Baits we had just bought. We would totally recommend them to anyone. The next fish that I caught was this little Bream. Now the thing with bream is half the time you never know you have them on the end of your rod because they don't fight at all. Second fish of the day for me!  After that fish it went very quiet for a few hours… This fish broke the stalemate! This is my new PB bream it was 2lb 4oz which I am really happy about.
The Supreme Baits had now gone a bit quiet so it was time for a change in tactics. We both put on Northern Specials red Wafters and chucked some free pickings around and within 10 minutes I had a run and caught this little chunk!
It had just stopped raining when I caught this fish hence why I have my Bath Angling hoodie on. Riki had a run after that he had a big common and just as we were about to net it the hook came out of its mouth and we lost the fish… We were both gutted… So, we just lost a fish and it was now very quiet on Withy so we decided to move to Bridge Pool. The fish were on the surface so we did a bit of surface fishing but didn't manage to catch anything. We changed tactics again! We had one rod on the bottom and set up our float rods, casting to the island. We used boilies as the hook bait, and fished mid water. This change did work and I caught a small common and this Mirror Carp at about 8:30pm!
So that was our days fishing in total I had 4 Carp and 4 bream and Riki only caught one big carp. I have noticed that I catch more but Riki seems to catch the bigger ones! Until the next time Luke Remember to head over to our website www.BathAngling.co.uk to find out about fishing in the Bath area, and loads more blogs.
Please like our facebook page at: www.facebook.com/BathAngling
We are also on twitter as well: www.twitter.com/BathAngling