Pokemon Video Games Club at Barrow Library
Barrow in Furness Library
Ramsden Square
Barrow In Furness
LA14 1LL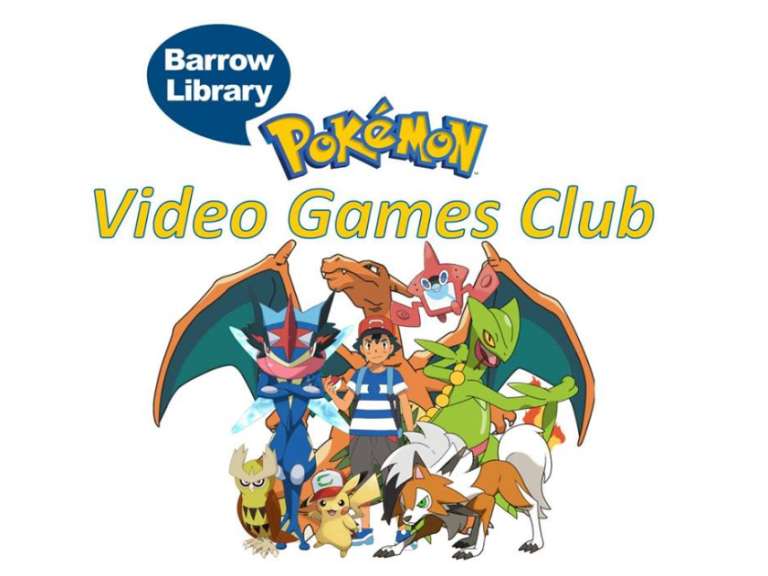 The club is FREE for all ages (adults and children alike!) and hopes to give everyone an opportunity to meet other trainers who they may not meet otherwise.
The club is a mix of casual and experienced players and there will be something for everyone to get involved with and even learn. So whether you want to complete your Pokedex, learn to battle or looking to talk about the game, come along!

IMPORTANT INFO—Trainers will need to bring their own games devices, though it is the owner of the devices responsibility to keep their device safe. Children under 8 must be accompanied by an adult at all times.

To join contact Barrow Library either by direct message, calling them on 01229 407373 or email christopher.pease@cumbria.gov.uk for further information.
Future dates
Thursday 2nd May 4:00pm until 5:00pm
Thursday 9th May 4:00pm until 5:00pm
Thursday 16th May 4:00pm until 5:00pm
Thursday 23rd May 4:00pm until 5:00pm
Thursday 30th May 4:00pm until 5:00pm
Thursday 6th June 4:00pm until 5:00pm
Thursday 13th June 4:00pm until 5:00pm
Thursday 20th June 4:00pm until 5:00pm
Thursday 27th June 4:00pm until 5:00pm
Thursday 4th July 4:00pm until 5:00pm
Thursday 11th July 4:00pm until 5:00pm
Thursday 18th July 4:00pm until 5:00pm
Thursday 25th July 4:00pm until 5:00pm
Thursday 1st August 4:00pm until 5:00pm
Thursday 8th August 4:00pm until 5:00pm
Thursday 15th August 4:00pm until 5:00pm
Thursday 22nd August 4:00pm until 5:00pm
Thursday 29th August 4:00pm until 5:00pm
Thursday 5th September 4:00pm until 5:00pm
Thursday 12th September 4:00pm until 5:00pm
Thursday 19th September 4:00pm until 5:00pm
Thursday 26th September 4:00pm until 5:00pm
Thursday 3rd October 4:00pm until 5:00pm
Thursday 10th October 4:00pm until 5:00pm
Thursday 17th October 4:00pm until 5:00pm
Thursday 24th October 4:00pm until 5:00pm
Thursday 31st October 4:00pm until 5:00pm
Thursday 7th November 4:00pm until 5:00pm
Thursday 14th November 4:00pm until 5:00pm
Thursday 21st November 4:00pm until 5:00pm
Thursday 28th November 4:00pm until 5:00pm