Halloween Events and Parties in Brighton and Hove
18th September 2009
Author: Gerry H
Comments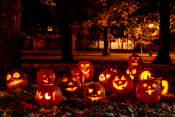 Halloween Events in October and November 2013
Some of the best halloween parties and events happening in the Brighton and Hove area during October and November.
Split into Halloween for Kids and Families and Halloween Young  Adults/Adults sections.
Check age requirements before you go.
If you'd like to have your event added to this list, email us at brightonandhove@thebestof.co.uk
For Halloween Costume Ideas, check out the Revamp Fancy Dress Boutique in North Laine, 11 Sydney Street... a Brighton party institution...
---
HALLOWEEN FOR KIDS AND FAMILIES
---
KOMEDIA BRIGHTON - Gorrid The Horrid - 3rd October 2012
This musical show for the whole family stars Brighton writing duo Al Start and Nicola Bloom.
Featuring original songs, puppetry, silly comedy, a little gloop and a very special effect!
A charmingly disgusting tale of friendship, mystery, spells, witch's cats and the search for all that is wrong and foul in this witchy world!
The music is awesome, the humour is pitched just right for your little monsters and it's even great for the grown-ups!
Gorrid the Horrid & The Missing Ingredient hits the road this Autumn in a whistle-stop half term tour.
Halloween afternoon itself will be spent in The All Saints Centre Lewes, Saturday 2nd Nov Gorrid will fly over to Chyngton School in Seaford, then Sunday she'll be lurking in the Komedia Brighton...
Suitable for all ages
Running Times: 1pm (doors 12:30pm)
http://komediabrighton.ticketsolve.com/shows/873504012/events
---
Drusillas Park - Halloween - Sat 26/10 - Sunday 3/11
Venue: Drusillas Park, Alfriston, East Sussex BN26 5QS
Stake out the fun at Drusillas this Halloween! Between Saturday 26th October and Sunday 3rd November they've conjured up oodles of eerie events and seasonal surprises to keep your little horrors half term happy including:
Haunted Heights
Spooky Happenings
Mummy Mayhem
Creepy Crawly Encounters 
Scooby-Doo – Wednesday 30th October
The Wicked Wacky
Book tickets in advance to save £££s for Halloween Shriek Week. Visit the Buy Online Tickets page to purchase yours now! 
---
Spooktacular Fun Park at Tulleys Farm in 2013
Sat 19-20th October, Sat 26-27th October, Mon 28 October - 2 November 
Venue: Tulleys Farm, Turners Hill Road, Turners Hill, Crawley, West Sussex, United Kingdom, RH10 4PE
Looking for ghoulish fun? The UK's top voted Halloween family attraction is back for 2013 at Tulleys Farm in West Sussex. Packed with spine tingling surprises, milder thrills and bags of excitement the park boasts 5 family Halloween attractions alongside plenty more activities.
Horrid Hayride
Creepy Cottage
Boo Barn
Scary Fun House
Spooky Trail & Spook Hunt
Enter the Creepy Cottage or climb aboard the Horrid Hayride (with live actors in the afternoon). Plus for younger guests, there's the Boo Barn and Spooky Trail too.
A full day of fun with children's shows, pumpkin inflatables, trampolines and more. Great value too with all activities included in entry and mostly undercover.

Opening times – 10am to 4.30pm

For further information about Spooktacular Fun by Day and online saver tickets for the Family Halloween attractions, visit 
http://www.halloweenattractions.co.uk/spooktacular/
or call 01342 710471
---
Halloween Happy Hauntings at Fishers Farm Park - From 26th October - 2nd November
Start: 26th Oct 2013
End: 2nd Nov 2013
Venue: Fishers Farm ParkAddress: Newpound Lane, Wisborough Green, West Sussex, United Kingdom, RH14 0EG
Witches and Wizards, Vampires and Lizards, and owls that go hoot in the night. Scary tales and slimey snails, and ghosts that give you a fright!
Grab your broomsticks and soar into Fishers Farm Park this hair-raising half term for the 'Halloween Happy Hauntings'!
Ideally suited for ages 2 – 11 yrs, come and enjoy this fangtastic week with your own little monsters!
On selected days during the Half Term Week, 'Animal Extravaganza' will be popping in with some creepy crawlies and bugs you can hug!
A coven of wicked witches and a spectacle of Spooks perform the spell-binding Spook Show daily in the enormous Barn Theatre! With over 200 seats available, there's ample room for the whole family to sit back, relax and enjoy the magical show.
There is lots more besides... For information on prices and opening times please see:
http://www.fishersfarmpark.co.uk/content/halloween-2013.html

You can also call 01403 700063
---
The Ghost Walk of the Lanes - 26th and 31st October 2013
Start at the Druid's Head pub, Brighton Place (opposite Donatello's Restaurant)

Tel: 01273 328 297 or 0752 260 5524
This Ghost Walk goes where other Ghost Walks fear to tread. An alternative and fun way to learn about Brighton's history.
There will  be two extra ghost walks over the Halloween period. There is an earlier start time of 6:30 P.M. in order to accommodate families with younger children. There will also be plenty of gruesome goodies for all our little Halloweeners to gobble.
The times and dates are as follows:
Saturday 26th October. There will be two walks on this date. The start times are as follows:
6:30 P.M. start
7:30 P.M. start
Thursday 31st October (Halloween Night). There will be three walks on this date. The start times are as follows:
6:30 P.M. start
7:30 P.M. start
9:00 P.M. start
Booking not essential but recommended.

Ticket Information:
Adult Admission       £8.00 per ticket
Kids Admission         £4.00 per ticket
Seniors & Students   £5.00 per ticket 
Family Tickets          £20.00 for 2 adults, 2 kids 
http://ghostwalkbrighton.co.uk/halloween-week-2013
---
 HALLOWEEN FOR YOUNG ADULTS/ADULTS
---
KOMEDIA BRIGHTON - Trailer Trash presents…Halloween Special! CARRIE - plus Horror Prom After Party!
Club Night - 1 Nov
Feeling bloody? Come and watch this 1976 horror classic with Dukes After Dark, before moving on to your very own gory Senior Prom after party, brought to you by Trailer Trash!
Dress hot and grotty if you want to be crowned King or Queen of the prom, and be prepared, for there WILL BE a dance-off! If you've got a taste for terror... take Carrie to the prom.
Ages: 18+
http://komediabrighton.ticketsolve.com/shows/873502996/events
---
Tulleys Farm - Vampire World Record Attempt Saturday 5th October
Venue: Shocktober Fest Scream Park at Tulleys Farm, Turners Hill Road, Turners Hill, Crawley, West Sussex, RH10 4PE
Are YOU ready to make history?
Thousands of Vampires are being rallied to the world famous Shocktober Fest at Tulleys Farm to break the Guinness World Record for the 'Largest Vampire Gathering' on Saturday the 5th of October.
The Vampire World Record Attempt will take place from 6.00pm to 7.00pm, with our Scream Park haunts running from 7.30pm to 11.30pm.
See more at: 
http://www.halloweenattractions.co.uk/shocktoberfest/attractions/vampire-world-record-attempt-party-night
---
Tulleys Farm - Shocktoberfest Scream Park
18 Selected Days throughout October and November - Starts Saturday 5th October, ends Saturday 2nd November
Venue: Tulleys Farm, Turners Hill Road, Turners Hill, Crawley, West Sussex, United Kingdom, RH10 4P
THE UK'S NO1 HALLOWEEN EVENT - 18 FRIGHT NIGHTS!
An interactive and immersive Haunted Adventure with six main Haunts, which includes the infamous Haunted Hayride, four very unique haunted house experiences and new for 2013, 'Woodshock ... Rottin since 69!' in the haunted cornfield.
The Scream Park also incorporates three Food Courts, Street Theatre, and NEW for 2013 - the WoodShock live stage, Cirque de Shock, the Haunted Fun Fair and the After Shock (Red Cross) Bar.
Shocktober Fest 2013 has a capacity limit and passes are selling fast, do BOOK ONLINE to avoid disappointment.
To buy tickets and for more information visit www.HalloweenAttractions.co.uk/shocktoberfest
(Not recommended for under 12's)
---
Shooshh... in Brighton - Sat 2nd November 2013
Venue: 214 Kings Road Arches, Brighton BN1 1NB
Shooshh will be taken over by Zombies, devils, Witches and some other gruesome creatures who will bring the spooky, the ghostly and the ghoulish to life.
The venue will be complete with a Trick or treat Balloon Drop (not only good things fall from the sky) Creepy Cocktails, Graveyard Dance Floor and a Spectacularly Spooky Stage Show... fun and frights to set your heart racing!
Doors: 10:00pm til 4:00am (last entry 4:00am)
Age: 18+
For full details, visit:
http://www.skiddle.com/whats-on/Brighton/Shooshh.../Halloween-House-Of-Horrors/11985062/
---
G Casino Brighton - Electric Cabaret presents Halloween Haunted Casino - Thu 31 Oct 
Venue: G Casino Brighton - 9 Grand Junction Road, Brighton, BN1 1PP 
Featuring Spooky Stiltwalking, Super Bendy Zombie Gymnast Girls, Sexy Vampire Queen stage show, Fallen Angels with The Good Girls Gone (Very) Bad Burlesque show, Bewitching Fire Dancer, The Trick or Treat Girls, Killer Thriller Stage Show, stunning Hell's Angels Fire & Spark routine and get 'Back to Black' with Laura Nixon as our 'dead famous' celeb Miss Amy Winehouse.
All set to a killer soundtrack of club classics with Code South DJ David Noakes.
Join us for thrilling entertainment, dancing, gaming, mingle at the bar or sample our delicious menu too!
Free entry plus a free glass of bubbly and a free roulette spin for the first 100 to be added to the guest-list or say 'Electric Cabaret' at reception!
Website: http://www.grosvenorcasinos.com/local-casinos/brighton#eventop
Tel: 01273 326514
---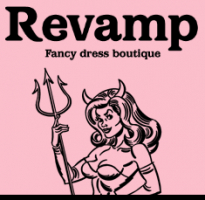 Revamp Fancy Dress
Why not check out this Fancy Dress business in Brighton and Hove. Revamp Fancy Dress is a 'thebestof' business member.