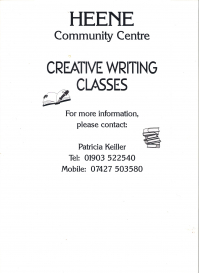 Do you have a passion for writing? Would you like to learn to write scripts and in prose?
At the Heene Community Centre learn to write stories and scripts with published author/playwright Patricia Keiller.
Become more confident in your writing or learn a new skill every Monday and Friday between 4 to 6 p.m.
Future Dates
Friday 28th April
4:00pm until 6:00pm
Monday 1st May
4:00pm until 6:00pm
Friday 5th May
4:00pm until 6:00pm
Monday 8th May
4:00pm until 6:00pm
Friday 12th May
4:00pm until 6:00pm
Monday 15th May
4:00pm until 6:00pm
Friday 19th May
4:00pm until 6:00pm
Monday 22nd May
4:00pm until 6:00pm
Friday 26th May
4:00pm until 6:00pm
Monday 29th May
4:00pm until 6:00pm
Friday 2nd June
4:00pm until 6:00pm
Monday 5th June
4:00pm until 6:00pm
Friday 9th June
4:00pm until 6:00pm
Monday 12th June
4:00pm until 6:00pm
Friday 16th June
4:00pm until 6:00pm
*thebestof cannot be held responsible for any changes, amends or cancellations of an event
Contact us: 01903522540

visit us

Heene Community Centre
122 Heene Road,
Worthing

BN11 4PL