Tasty Rewards - the easy way to enjoy FREE Pub Food in Wolverhampton
25th July 2013
Author: Richard F
Comments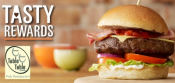 Table Table restaurants are known for their great pub food, relaxing surroundings and friendly service. Now, there's an even better reason to visit more regularly - the Table Table Rewards Card.
Every time you spend £1 on food and drink with your Reward Card you collect 5 points. You then convert your points to money-off vouchers. It's like getting 5% back on everything you purchase. You even collect points on your drinks! 
Your points are worth even more when you swap them for two free Gourmet Burgers, two free kids' meals or two free sundaes.
Here's what you can get with your points:
~ £5 off your bill (500 points)
~ 2 FREE Gourmet Burgers (500 points)
~ 2 FREE Kids' meals (500 points)
~ 2 FREE Sundaes (500 points)
~ FREE main meal on your birthday
~ Delicious deals for Tasty Rewards members
~ Exclusive offers for friends and family celebrations
For more details please call into your local Table Table Restaurant and pick up a Rewards Card or visit the Table Table website for more details / terms and conditions.