Experienced Therapist Rafal Wisniewski offers Shockwave Therapy for people in Woking and surrounding areas, to treat painful and chronic conditions that refuse to respond to traditional treatments, and also to deliver an effective skin firming and cellulite treatment.
Shockwave Therapy is a convenient, non-invasive breakthrough solution for chronic joint conditions such as Plantar Fasciitis, severe tendonitis, golf and tennis elbow, shoulder pain, and problems with the Achilles tendon.
Remarkably, the same technique can also be used to treat cellulite, minimize the signs of aging and rejuvenate and regenerate soft tissue.
Shockwave Therapy for Joints and Muscles
If you have chronic joint pain that refuses to heal despite all your treatments – steroid injections, medications, splints, braces, strapping, taping, special shoe inserts – then it's time to try something else.
Shockwave Therapy is making its name as a highly effective, non-invasive solution for conditions not helped by anti-inflammatory or immobilization devices. This quick, effective procedure harnesses intense but very short energy waves to treat many chronic painful orthopaedic conditions, such as:
Heel spurs: plantar fasciitis

Tendons: chronic enthesopathies

Achilles tendon: mid-portion achilles tendinopathy

Achilles tendon: insertional achilles tendinopathy

Shin pain: tibialis anterior syndrome

Knee pain: patellar tip syndrome

Hip pain: greater trochanteric pain syndrome

Lower back pain: idiopathic lower back pain, radicular and pseudoradicular lower back pain

Tennis elbow: lateral epicondylitis

Golf elbow: medial epicondylitis

Shoulder pain: calcific tendonitis of the shoulder

Shoulder pain: subacromial pain syndrome

Chronic neck and back pain: myofascial trigger points (MFTPs)
Your local expert in Shockwave Therapy is Rafal Wisniewski, a therapist with over 15 years experience in a variety of medical and complementary therapy settings in Poland and the UK, including a private therapy college and a military specialist medical centre. 
Rafal has trained extensively in a variety of treatments including Shockwave Therapy, which he now offers as a mobile service across the Woking area. He is fully insured for all the treatments he offers.
In a study in the US, a group of patients with pain rated 7.7 out of 10 (on average) were given one Shockwave Therapy treatment. A year later the average pain level in the same group was just 0.6 – a 92% reduction in pain and a much higher rate of success than any non-surgical or surgical procedure.
Shockwave Therapy is non-surgical and therefore is free from complications, avoids the risk of further damage, requires downtime or recovery time, and is extremely safe. Side effects are very minor and rarely any more painful than the condition being treated already is.
The benefits for you?
No anaesthesia

No medication

No surgery

Quick recovery

Fewer complications

Fast treatment – 15-20 minutes per session

Results usually within 3-5 treatments

Proven long-term results
If you have private medical insurance, speak to your insurance company as Shockwave Therapy could be covered by your policy.
"Eat Skin Shock" - Shockwave Therapy for Skin
Eat Skin Shock acoustic wave treatment is an innovative, non-invasive skin firming and cellulite treatment which reduces dense, hard fat tissue and rejuvenates soft tissue.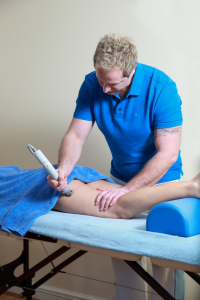 Effective usually within 3 weeks (only 6-8 treatments), the effects of Eat Skin Shock can include:
Refirming and invigorating of flabby skin

reduction of cellulite

restoration of collagen

elimination of deposits of metabolism by-products

transformation of scar tissue

reduction of stretch marks

improvement of lymph flow 

breakdown of fat deposits
Rafal Wisniewski uses the most advanced acoustic waves equipment on the market, clinically proven to deliver far better results than other treatments, and with no side effects. In fact Eat Skin Shock is now recommended by many plastic surgeons for use after liposuction procedures.
Whether you have painful joints or troublesome stretch marks, Shockwave Therapy can offer you a painless and convenient treatment with proven result. Call Rafal Wisniewski today and find out more.
---
Rafal Wisniewski
Shockwave Therapy 
Woking
07851 608610
---