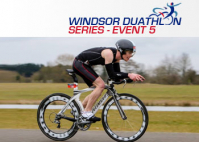 Windsor Spring Duathlon - Run Bike Run Start the summer off with a bang and take part in a Triathlon!!!! without the swim at the Olympic Rowing Basin, Windsor, Dorney www.windsorduathlon.co.uk
The largest and longest running Windsor Duathlon Series from Dorney Lake will be returning in 2017 and is set to be bigger than ever.
With the flattest and fastest route around, the Windsor Duathlon attracts over 2000 participants each Winter to sharpen there fitness and form for the Summer season. 100% accurate course and 100% traffic free. Perfect winter conditioning.
The Windsor Duathlon Series is organised to bring complete beginners and elite athletes together to encourage everyone to give it a go.
With the Series now in its 10th consecutive year with the continued support from Dorney Lake, we expect 2017 to be fun and exciting year in sport.
There are five dates in this Winter Duathlon Series.
These events are perfect for anyone looking to get fit or take part in their first event. Dorney Lake is the perfect venue for a Duathlon Event.
This fun and exciting Duathlon Series will put you on good form for the coming season.
The Perfect Location for watching events with every discipline only an arm's length away.
#WindsorDuathlon
*thebestof cannot be held responsible for any changes, amends or cancellations of an event
Contact us: 07909915444

visit us

Eton Dorney Rowing Centre
Dorney Lake
Windsor
Berksire
SL46QP

follow us

This is a live stream from Twitter - not the voice of thebestof!

find us on facebook