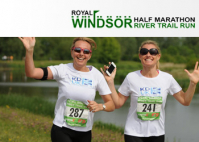 Royal Windsor Half Marathon River Trail Run www.windsorhalfmarathon.co.uk
The Royal Windsor Half Marathon River Trail Run Trail Run creates the perfect opportunity to experience the historically picturesque Thames Valley. 

With an idyllic start and finish at the foot of Windsor Castle, a royal home and fortress for over 900 years, the entirely flat river route guides you upstream to Maidenhead before heading back towards Windsor. 

Mainly run along river trail paths, the course incorporates many of the key landmarks that have made Royal Berkshire and its surrounding area so famous. It is an absolute must for anyone looking for a break from the pavement grind and a change of scenery. The course follows natures trails and as a trail run the course although measured will never be 100% accurate. 

With a huge increase in demand and listening to participants feedback, we have limited the entries to 1500 participants in 2017. This is now an annual event and a great way to start your summer, and enjoy the best of Windsor, Boveney Lock, Bray, Dorney, Maidenhead and Eton. 
*thebestof cannot be held responsible for any changes, amends or cancellations of an event
Contact us: 07909915444

visit us

Alexandra Gardens
Barry Avenue
Windsor
Berkshire
SL47AE

follow us

This is a live stream from Twitter - not the voice of thebestof!

find us on facebook