PROMOVEMBER: Win a Remote Control Mini Cooper S
21st November 2014
... Comments
---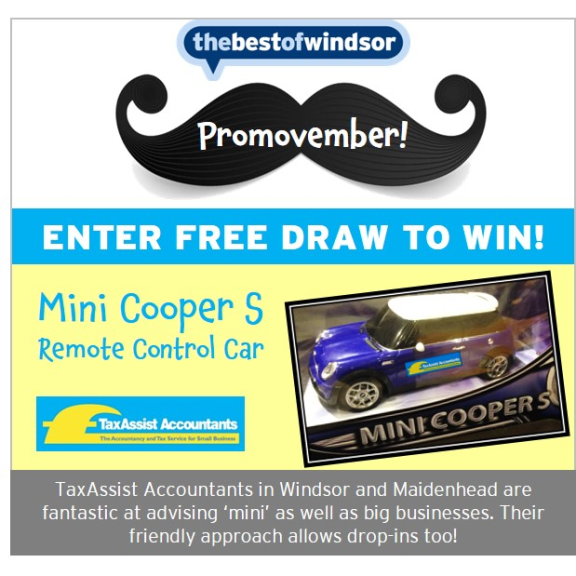 TaxAssist Accountants Windsor are friendly and approachable so you can ask them anything about your tax returns, payroll and bookkeeping. They are a part of the largest network of accountants all working with small businesses all over the UK - perfect for your needs.
---
The Best of Windsor business community is supporting Mens' Health charities via the international #MOVEMBER campaign.
Simply donate £1 to the cause below!
As a thank you, the businesses are giving away a prize every day in our #PROMOVEMBER campaign :-) 
---
1. Enter ALL the free draws once by registering here! 
Sign up here: http://eepurl.com/0XI4H  
Don't worry, we don't share your data with anyone else, we will just send you local offers, events and news from time to time.
---
2. For more entries simply share this blog article on Twitter, Facebook and your other social media favourites
Try and remember to use the hashtag #Promovember in your message!
---
FINALLY DONATE A £1 TO #MOVEMBER
We're doing all this to support the international #MOVEMBER campaign which is rasing money for Mens' Health charities.
Would you be willing to help Windsor raise money for this great cause?
By donating even just £1 you can make a difference.
http://MoSista.co/thebestofwindsorpromovember
---
TaxAssist Accountants Windsor - the place to go for all your accountancy needs

01753 752340