Walsall Continental Market
Park Street
Walsall
WS1 1LY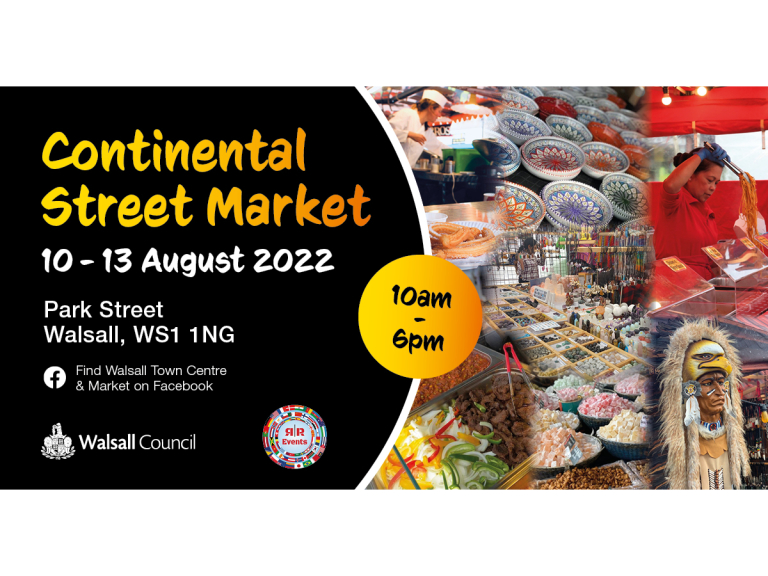 Great food and goods along with a touch of prehistoric animals for families to enjoy
Walsall Town Centre Continental Street Market /Teenage Market
Wednesday 10 August - Saturday 13th August 2022 10-6PM
Walsall Continental Street Market returns to Park Street on Wednesday 10th August – Saturday 13 August.  Alongside this, will be the Teenage market on Saturday 13th, where young people will be given the opportunity to showcase their entrepreneurial skills and sell their goods. 
Walsall Market will also open on Wednesday – Saturday, where our normal traders will be present.
On Saturday 13th August we will have a visit from a 6ft Spinosarus 
Meet your favourite prehistoric pals. A large Spinosarus dinosaur will be on a walkabout in Park Street at 11:30am, 1pm and 2.30pm.  Each session will last 20 minutes
Children and parents will also have the opportunity to meet Ranger Rick and Ralph the Raptor and Trixie the Triceratops (dinosaur puppets), whilst they roam around the markets and meet and greet everyone 11AM-3PM on Saturday.  Their last show will be at 3PM. Each session will be for 30 minutes.  
No need to book to see the dinosaurs