Toddler Time Trampoline Classes @ Jump In
Jump Nation
Bentley Mill Way
WS2 0BT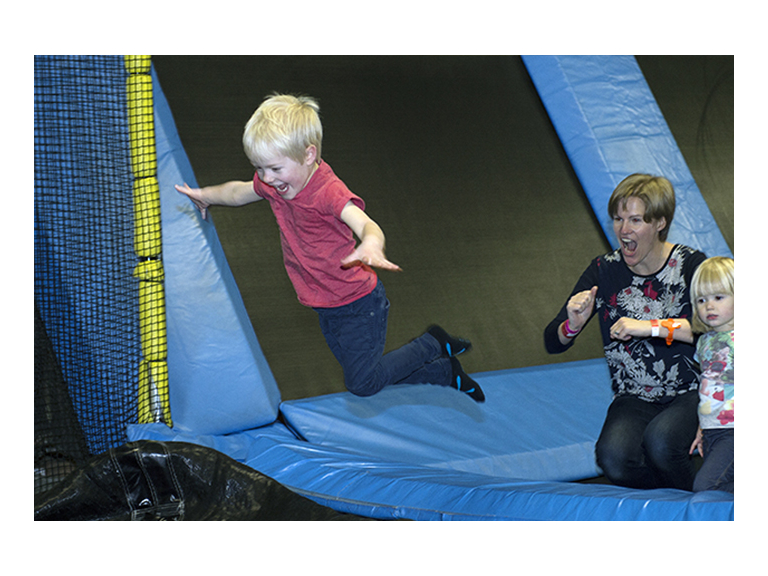 Bring your little one to Jump In Trampoline Arena for a fun and safe Trampoline Class.
Is your toddler full of energy but getting tired of the same old soft play areas then look no further!
Jump In Walsall are now holding fun and safe Toddler Time Trampoline classes which will give your little ones the full use of the trampoline area and big airbag without the fear of jumping into bigger kids and adults!
With full supervision, your toddler will be able to enjoy bouncing around the arena freely and play with friends of the same age all in a safe environment.
It's £5 per child (under 6's) and squash and biscuits will be set out afterwards for your little ones in Jump In's very own cafe, Cafe Nation.
To check availability and  find out more information or to book a place contact Jump In at: 
0845 838 6214

Bentley Mill Way, Walsall, WS2 0BT
Future dates
Wednesday 21st March 11:00am until 12:00pm
Thursday 22nd March 11:00am until 12:00pm
Friday 23rd March 11:00am until 12:00pm
Saturday 24th March 9:00am until 10:00am
Monday 26th March 11:00am until 12:00pm
Tuesday 27th March 11:00am until 12:00pm
Wednesday 28th March 11:00am until 12:00pm
Thursday 29th March 11:00am until 12:00pm
Friday 30th March 11:00am until 12:00pm
Saturday 31st March 9:00am until 10:00am
Monday 2nd April 11:00am until 12:00pm
Tuesday 3rd April 11:00am until 12:00pm
Wednesday 4th April 11:00am until 12:00pm
Thursday 5th April 11:00am until 12:00pm
Friday 6th April 11:00am until 12:00pm
Saturday 7th April 9:00am until 10:00am
Monday 9th April 11:00am until 12:00pm
Tuesday 10th April 11:00am until 12:00pm
Wednesday 11th April 11:00am until 12:00pm
Thursday 12th April 11:00am until 12:00pm
Friday 13th April 11:00am until 12:00pm
Saturday 14th April 9:00am until 10:00am
Monday 16th April 11:00am until 12:00pm
Tuesday 17th April 11:00am until 12:00pm
Wednesday 18th April 11:00am until 12:00pm
Thursday 19th April 11:00am until 12:00pm
Friday 20th April 11:00am until 12:00pm
Saturday 21st April 9:00am until 10:00am
Monday 23rd April 11:00am until 12:00pm
Tuesday 24th April 11:00am until 12:00pm
Wednesday 25th April 11:00am until 12:00pm
Thursday 26th April 11:00am until 12:00pm
Friday 27th April 11:00am until 12:00pm
Saturday 28th April 9:00am until 10:00am
Monday 30th April 11:00am until 12:00pm
Tuesday 1st May 11:00am until 12:00pm
Wednesday 2nd May 11:00am until 12:00pm
Thursday 3rd May 11:00am until 12:00pm
Friday 4th May 11:00am until 12:00pm
Saturday 5th May 9:00am until 10:00am
Monday 7th May 11:00am until 12:00pm
Tuesday 8th May 11:00am until 12:00pm
Wednesday 9th May 11:00am until 12:00pm
Thursday 10th May 11:00am until 12:00pm
Friday 11th May 11:00am until 12:00pm
Saturday 12th May 9:00am until 10:00am
Monday 14th May 11:00am until 12:00pm
Tuesday 15th May 11:00am until 12:00pm
Wednesday 16th May 11:00am until 12:00pm
Thursday 17th May 11:00am until 12:00pm
Friday 18th May 11:00am until 12:00pm
Saturday 19th May 9:00am until 10:00am
Monday 21st May 11:00am until 12:00pm
Tuesday 22nd May 11:00am until 12:00pm
Wednesday 23rd May 11:00am until 12:00pm
Thursday 24th May 11:00am until 12:00pm
Friday 25th May 11:00am until 12:00pm
Saturday 26th May 9:00am until 10:00am
Monday 28th May 11:00am until 12:00pm
Tuesday 29th May 11:00am until 12:00pm
Wednesday 30th May 11:00am until 12:00pm
Thursday 31st May 11:00am until 12:00pm
Friday 1st June 11:00am until 12:00pm
Saturday 2nd June 9:00am until 10:00am
Monday 4th June 11:00am until 12:00pm
Tuesday 5th June 11:00am until 12:00pm
Wednesday 6th June 11:00am until 12:00pm
Thursday 7th June 11:00am until 12:00pm
Friday 8th June 11:00am until 12:00pm
Saturday 9th June 9:00am until 10:00am
Monday 11th June 11:00am until 12:00pm
Tuesday 12th June 11:00am until 12:00pm
Wednesday 13th June 11:00am until 12:00pm
Thursday 14th June 11:00am until 12:00pm
Friday 15th June 11:00am until 12:00pm
Saturday 16th June 9:00am until 10:00am
Monday 18th June 11:00am until 12:00pm
Tuesday 19th June 11:00am until 12:00pm
Wednesday 20th June 11:00am until 12:00pm
Thursday 21st June 11:00am until 12:00pm
Friday 22nd June 11:00am until 12:00pm