Seven Kinds of Magic Exhibition at The New Art Gallery Walsall
Gallery Square
Walsall
WS2 8LG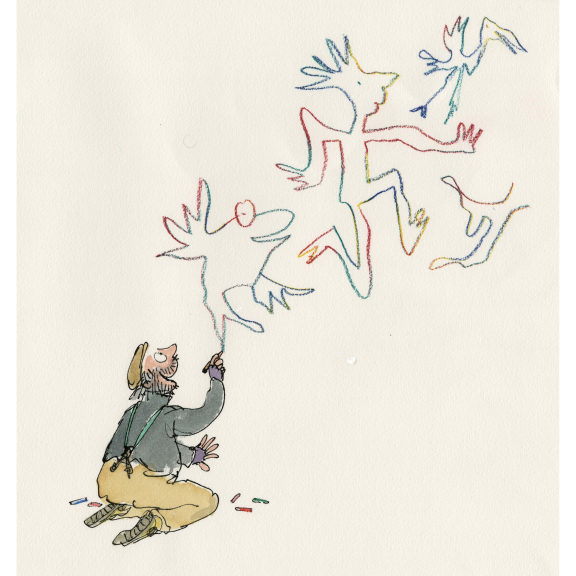 This exhibition comprises original illustrations by Quentin Blake for 7 books in which magic appears in different forms, including The Witches by Roald Dahl. Showing alongside are works from the Gallery's Permanent Collection.
Seven Kinds of Magic was the inaugural exhibition in the Quentin Blake Gallery at House of Illustration in London in 2016. House of Illustration is the UK's only public gallery dedicated to the exhibition and promotion illustration, founded by Blake in 2014.
Image credit:  (c) Quentin Blake, Image from Angel Pavement by Quentin Blake (Jonathan Cape 2004).
Future dates
Friday 20th October 10:00am until 5:00pm
Saturday 21st October 10:00am until 5:00pm
Sunday 22nd October 12:00pm until 4:00pm
Tuesday 24th October 10:00am until 5:00pm
Wednesday 25th October 10:00am until 5:00pm
Thursday 26th October 10:00am until 5:00pm
Friday 27th October 10:00am until 5:00pm
Saturday 28th October 10:00am until 5:00pm
Sunday 29th October 12:00pm until 4:00pm
Tuesday 31st October 10:00am until 5:00pm
Wednesday 1st November 10:00am until 5:00pm
Thursday 2nd November 10:00am until 5:00pm
Friday 3rd November 10:00am until 5:00pm
Saturday 4th November 10:00am until 5:00pm
Sunday 5th November 12:00pm until 4:00pm
Tuesday 7th November 10:00am until 5:00pm
Wednesday 8th November 10:00am until 5:00pm
Thursday 9th November 10:00am until 5:00pm
Friday 10th November 10:00am until 5:00pm
Saturday 11th November 10:00am until 5:00pm
Sunday 12th November 12:00pm until 4:00pm
Tuesday 14th November 10:00am until 5:00pm
Wednesday 15th November 10:00am until 5:00pm
Thursday 16th November 10:00am until 5:00pm
Friday 17th November 10:00am until 5:00pm
Saturday 18th November 10:00am until 5:00pm
Sunday 19th November 12:00pm until 4:00pm
Tuesday 21st November 10:00am until 5:00pm
Wednesday 22nd November 10:00am until 5:00pm
Thursday 23rd November 10:00am until 5:00pm
Friday 24th November 10:00am until 5:00pm
Saturday 25th November 10:00am until 5:00pm
Sunday 26th November 12:00pm until 4:00pm
Tuesday 28th November 10:00am until 5:00pm
Wednesday 29th November 10:00am until 5:00pm
Thursday 30th November 10:00am until 5:00pm
Friday 1st December 10:00am until 5:00pm
Saturday 2nd December 10:00am until 5:00pm
Sunday 3rd December 12:00pm until 4:00pm
Saturday 9th December 10:00am until 5:00pm
Sunday 10th December 12:00pm until 4:00pm