Nightclub Event for people with learning difficulties @ Religion Nightclub
Religion Nightclub
42-46 Bridge Street
Walsall
WS1 8HR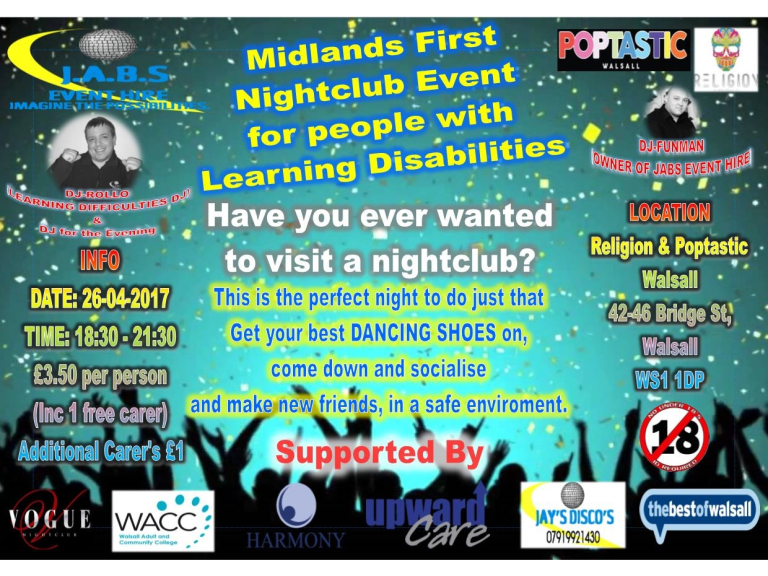 Head to Religion Nightclub on Wednesday 24th May for a very special evening arranged by Jay's Disco's! Due to popular demand, Jay's Disco's are proud to be putting on another nightclub event for people with learning difficulties in the Midlands.
This will be a fun-filled night for everyone that attends, full of laughs and excitement so if you have ever wanted to experience a nightclub environment this event should not be missed!
Venue
Religion nightclub, 42-46 Bridge St, Walsall, WS1 8HR
Time  18:30-21:30
Graham Pinches & Nick Parkinson have generously offered the use of their nightclub for the event.
Admission £3.50 per person (including 1 free carer) Additional carers £1
All proceeds will be given to Charity
Over 18s only
For further details please contact Jay's Disco's - 
Mobile 07919921430
Background behind this event:
Jamie Firman & the team, have been running disco's for people with learning difficulties for the past 3 years, in partnership with Harmony Care & Upward Care.

After speaking with carer's, support staff, family and most importantly people with learning difficulties, they decided that putting on a night club evening for everyone to come and enjoy would be a great opportunity for a new experience, in a safe environment.

Chris Rollason, a member of the team,  has learning difficulties (Aspergers & ADHD). Chris always aspired to be a DJ but never had the opportunities, until meeting Jay & his team.

Chris is now a Fulltime DJ for Jay and will be taking part in the evening.
Jay's Disco's would like to acknowledge the support of the following 
JABS event Hire - www.jabsevents.com
Religion Nightclub - www.facebook.com/religionwalsall
Harmony Care - www.harmonycare.co.uk
Upward Care - www.upwardcare.co.uk
WACC (Walsall Adult & Community College) - www.wacc.ac.uk
Best Of Walsall - www.thebestof.co.uk/local/walsall

Jay & his team at Jay's Discos have won the Community Champion award for 2017 from Best Of Walsall for all of the events that they run for people with learning difficulties.