Monday Night Karaoke Club at The Fingerpost Pub, Pelsall
Yorks Bridge,
Norton Road,
Pelsall,
Walsall
WS3 5AU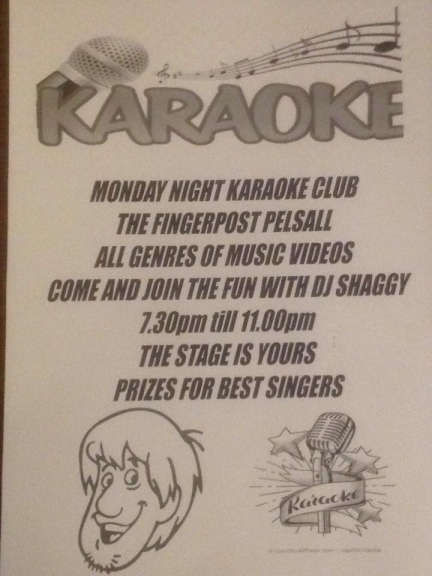 Looking for something to do on a Monday? Why not head down to The Fingerpost Pub, Pelsall for a night of Karaoke from 7.30pm.
All genres of music videos. Come and join the fun with DJ Shaggy. 7.30pm - 11.00pm.
The stage is yours! Prizes available for the best singers!
Future dates
Monday 20th April 7:30pm until 11:00pm
Monday 27th April 7:30pm until 11:00pm
Monday 4th May 7:30pm until 11:00pm
Monday 11th May 7:30pm until 11:00pm
Monday 18th May 7:30pm until 11:00pm
Monday 25th May 7:30pm until 11:00pm
Monday 1st June 7:30pm until 11:00pm
Monday 8th June 7:30pm until 11:00pm
Monday 15th June 7:30pm until 11:00pm
Monday 22nd June 7:30pm until 11:00pm
Monday 29th June 7:30pm until 11:00pm
Monday 6th July 7:30pm until 11:00pm
Monday 13th July 7:30pm until 11:00pm
Monday 20th July 7:30pm until 11:00pm
Monday 27th July 7:30pm until 11:00pm
Monday 3rd August 7:30pm until 11:00pm
Monday 10th August 7:30pm until 11:00pm
Monday 17th August 7:30pm until 11:00pm
Monday 24th August 7:30pm until 11:00pm
Monday 31st August 7:30pm until 11:00pm
Monday 7th September 7:30pm until 11:00pm
Monday 14th September 7:30pm until 11:00pm
Monday 21st September 7:30pm until 11:00pm
Monday 28th September 7:30pm until 11:00pm
Monday 5th October 7:30pm until 11:00pm
Monday 12th October 7:30pm until 11:00pm
Monday 19th October 7:30pm until 11:00pm
Monday 26th October 7:30pm until 11:00pm