Manor Farm Multi-Sports Camp with Sport Plus Scheme
Manor Farm Community Centre, King George Crescent, Rushall,
WS4 1EU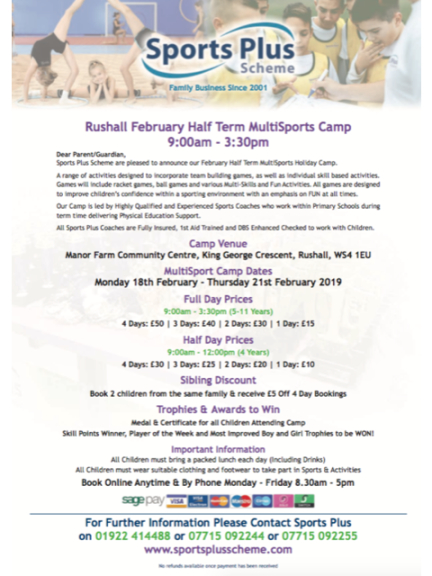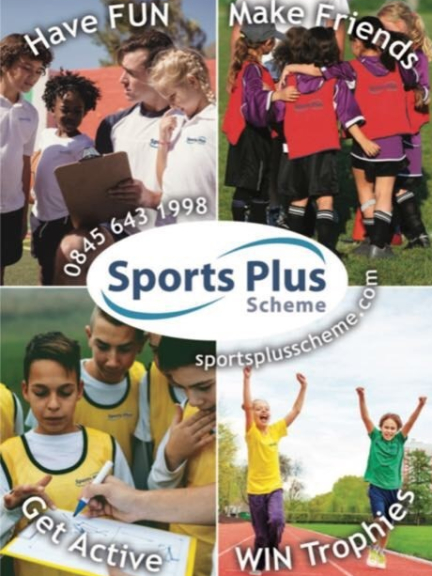 Sports Plus Scheme are hosting an exciting Multi-sports Camp at Manor Farm in Rushall this Summer Holidays, where your children can get involved with a range of activities.
Children will have the opportunity to participate in activities such as Football, Multi-Sports, Cricket, Dance and various games and activities.
All games are designed to improve children's confidence within a sporting environment with an emphasis on FUN at all times.
Sports Plus Scheme's camps are led by highly-qualified and experiences sports coaches who work within primary schools during term time to deliver Physical Education support.
---
How many days will the Camp run? 4/5 days a week
Week 1: 5 days (Monday 23rd July - Friday 27th July 2018)
Week 2: 5 days (Monday 30th July - Friday 3rd August 2018)
Week 3: 5 days (Monday 6th August - Friday 10th August 2018)
Week 4: 5 days (Monday 13th August - Friday 17th August 2018)
Week 5: 5 days (Monday 20th August - Friday 24th August 2018)
Week 6: 4 days (Tuesday 28th August - Friday 31st August 2018)
What Time? 9:00am-3:30pm

Who Can Attend? 6-11 Years (Boys & Girls)
Ratio of Children to Sports Plus Professionals? 1:16
How Much Will It Cost? £60 (5 days) £50 (4 days) £40 (3 days) £30 (2 days) £15 (1 day)
Join Sports Plus Scheme at Manor Farm Community Centre, King George Crescent, Rushall, WS4 1EU  from Monday 23rd July through to Friday 31st August 2018.
---
To secure your booking, contact Sports Plus on 01922 414488 or 07715 092244.