Ladies Only Kickboxing & Self-defence (Aged 13+)
Unit 1A, Alvar Business Park, Straight Road, Willenhall, West Midlands,
WV12 5QY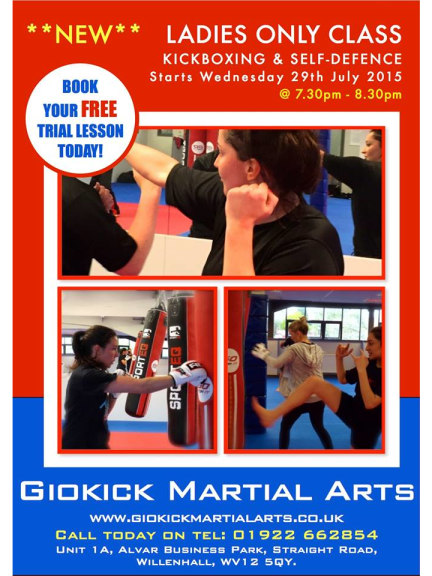 Book your free trial lesson for this ladies only kickboxing and self defence class.
Do you feel unsafe when you're by yourself in public and want to learn self defence skills that you can put into practice if you needed to?
GioKick have recently started running Ladies Only Kickboxing and Self Defence Class for ages 13+, which is every Wednesday at 7:30pm - 8:30pm.
Book your FREE train lesson today!
Future dates
Wednesday 30th August 7:30pm until 8:30pm
Wednesday 6th September 7:30pm until 8:30pm
Wednesday 13th September 7:30pm until 8:30pm
Wednesday 20th September 7:30pm until 8:30pm
Wednesday 27th September 7:30pm until 8:30pm
Wednesday 4th October 7:30pm until 8:30pm
Wednesday 11th October 7:30pm until 8:30pm
Wednesday 18th October 7:30pm until 8:30pm
Wednesday 25th October 7:30pm until 8:30pm
Wednesday 1st November 7:30pm until 8:30pm
Wednesday 8th November 7:30pm until 8:30pm
Wednesday 15th November 7:30pm until 8:30pm