Keep Fit Class at Repertoire Dance and Performing Arts
Willenhall Chart Centre
19 Gomer Street
Willenhall
WV13 2NS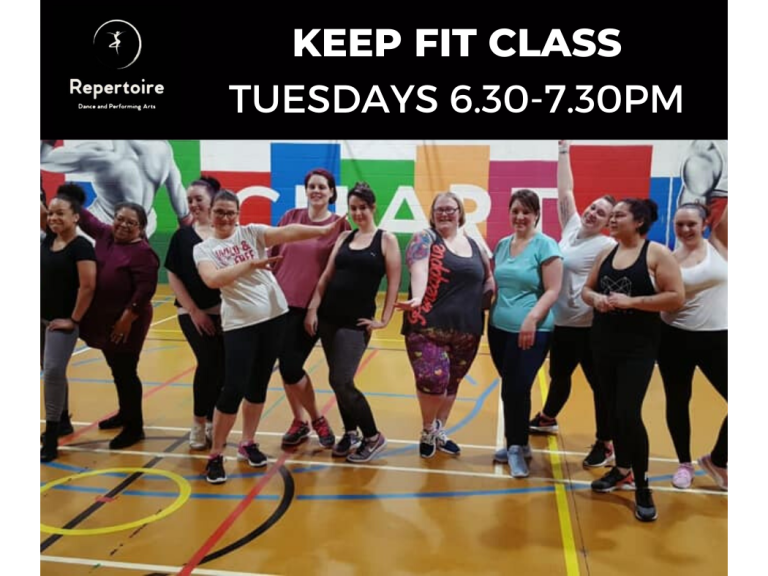 Looking to keep fit but don't fancy the gym? Why not come and join the 'Keep Fit' class at Repertoire Dance and Performing Arts.
Join this class of lovely ladies for a fun and upbeat way to keep fit and have fun!
Keep Fit takes place Tuesdays 6.30-7.30pm at Willenhall Chart Centre.
Just £5 per class.
Future dates
Tuesday 2nd June 6:30pm until 7:30pm
Tuesday 9th June 6:30pm until 7:30pm
Tuesday 16th June 6:30pm until 7:30pm
Tuesday 23rd June 6:30pm until 7:30pm
Tuesday 30th June 6:30pm until 7:30pm
Tuesday 7th July 6:30pm until 7:30pm
Tuesday 14th July 6:30pm until 7:30pm
Tuesday 21st July 6:30pm until 7:30pm
Tuesday 28th July 6:30pm until 7:30pm
Tuesday 4th August 6:30pm until 7:30pm
Tuesday 11th August 6:30pm until 7:30pm
Tuesday 18th August 6:30pm until 7:30pm
Tuesday 25th August 6:30pm until 7:30pm
Tuesday 1st September 6:30pm until 7:30pm
Tuesday 8th September 6:30pm until 7:30pm
Tuesday 15th September 6:30pm until 7:30pm
Tuesday 22nd September 6:30pm until 7:30pm
Tuesday 29th September 6:30pm until 7:30pm
Tuesday 6th October 6:30pm until 7:30pm
Tuesday 13th October 6:30pm until 7:30pm
Tuesday 20th October 6:30pm until 7:30pm
Tuesday 27th October 6:30pm until 7:30pm
Tuesday 3rd November 6:30pm until 7:30pm
Tuesday 10th November 6:30pm until 7:30pm
Tuesday 17th November 6:30pm until 7:30pm
Tuesday 24th November 6:30pm until 7:30pm
Tuesday 1st December 6:30pm until 7:30pm
Tuesday 8th December 6:30pm until 7:30pm
Tuesday 15th December 6:30pm until 7:30pm
Tuesday 22nd December 6:30pm until 7:30pm