Keep Dancing dance class
Age UK Community Engagement Centre
Ford Street,
Pleck, Walsall
WS2 9BW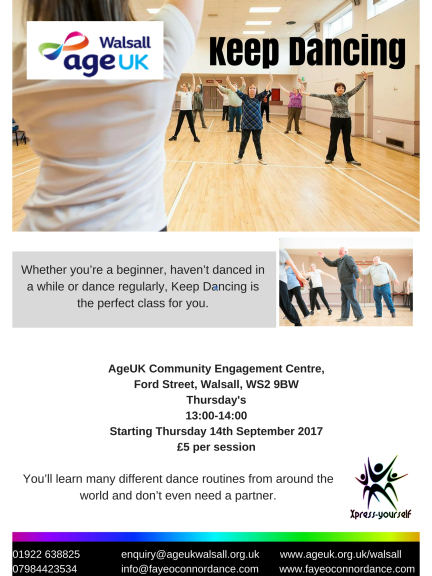 Keep Dancing - A dance class for all abilities. Whether you're a beginner or regular dancer it's the perfect class for you.
Keep dancing and have fun. Join our new Keep dancing class starting at the Age UK Walsall Community Engagement Centre, Ford Street, Walsall, WS2 9BW.
You'll learn many different dances from around the world and don't even need a partner.
It starts on Thursday 14th September.
All the contact details are on the attached poster.
So Xpress-yourself and Keep Dancing
Future dates
Thursday 28th September 1:00pm until 2:00pm
Thursday 5th October 1:00pm until 2:00pm
Thursday 12th October 1:00pm until 2:00pm
Thursday 19th October 1:00pm until 2:00pm
Thursday 26th October 1:00pm until 2:00pm
Thursday 2nd November 1:00pm until 2:00pm
Thursday 9th November 1:00pm until 2:00pm
Thursday 16th November 1:00pm until 2:00pm
Thursday 23rd November 1:00pm until 2:00pm
Thursday 30th November 1:00pm until 2:00pm
Thursday 7th December 1:00pm until 2:00pm
Thursday 14th December 1:00pm until 2:00pm