Taki Tiki Bar - Happy Hour every Friday at the Village!
Tempus Drive
Tempus Ten
Walsall
WS2 8TJ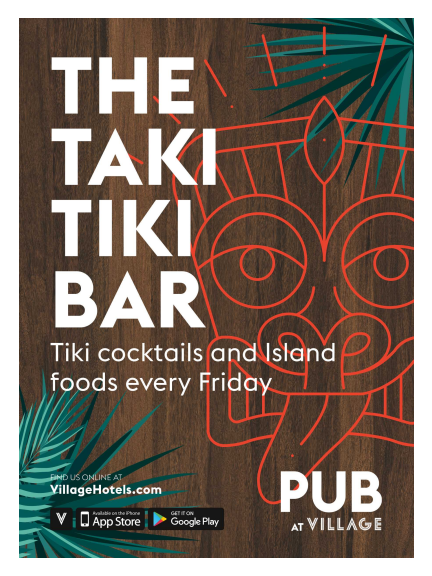 Aloha! Join the Village every Friday for their Taki Tiki Happy hour 🍹
Enjoy a taste of the exotic as the Village Pub transforms into a Tiki bar!
🌴Tiki cocktails, wine, fizz & beer for just £3.50*
🌴Yummy Tiki starters for just £3.50*
🌴Tasty Island food, including coconut king prawns, BBQ ribs, tender skewers and loads more!
Find out more here >> https://bit.ly/1dAXeLN
*Offers available during happy hour. T&Cs apply, see website .
Future dates
Friday 30th November 5:00pm until 7:00pm
Friday 7th December 5:00pm until 7:00pm
Friday 14th December 5:00pm until 7:00pm
Friday 21st December 5:00pm until 7:00pm
Friday 28th December 5:00pm until 7:00pm
Friday 4th January 5:00pm until 7:00pm
Friday 11th January 5:00pm until 7:00pm
Friday 18th January 5:00pm until 7:00pm
Friday 25th January 5:00pm until 7:00pm
Friday 1st February 5:00pm until 7:00pm
Friday 8th February 5:00pm until 7:00pm
Friday 15th February 5:00pm until 7:00pm
Friday 22nd February 5:00pm until 7:00pm
Friday 1st March 5:00pm until 7:00pm
Friday 8th March 5:00pm until 7:00pm
Friday 15th March 5:00pm until 7:00pm
Friday 22nd March 5:00pm until 7:00pm
Friday 29th March 5:00pm until 7:00pm