Get Christmas Party Ready at Rachael's
34 Birmingham Street
Willenhall
Walsall
WV13 2HW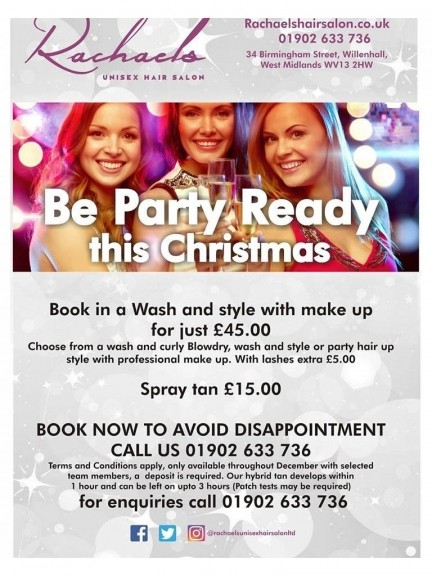 Head along to Rachael's Unisex Salon between now and the New Year to get your Christmas look!
Book a wash and style with makeup for just £45! (add lashes for £5)

Spray tans £15
(ts & cs apply, patch tests required) 
Give Rachael's Unisex Salon a call on 07902 633736 for further details and to book your appointment.
Book early to avoid disappointment!
Future dates
Tuesday 20th November
Wednesday 21st November
Thursday 22nd November
Friday 23rd November
Saturday 24th November
Tuesday 27th November
Wednesday 28th November
Thursday 29th November
Friday 30th November
Saturday 1st December
Tuesday 4th December
Wednesday 5th December
Thursday 6th December
Friday 7th December
Saturday 8th December
Tuesday 11th December
Wednesday 12th December
Thursday 13th December
Friday 14th December
Saturday 15th December
Tuesday 18th December
Wednesday 19th December
Thursday 20th December
Friday 21st December
Saturday 22nd December
Tuesday 25th December
Wednesday 26th December
Thursday 27th December
Friday 28th December
Saturday 29th December