Contemporary Classes at Repertoire Dance and Performing Arts, Willenhall
Willenhall Chart Centre
19 Gomer Street
Willenhall
WV13 2NS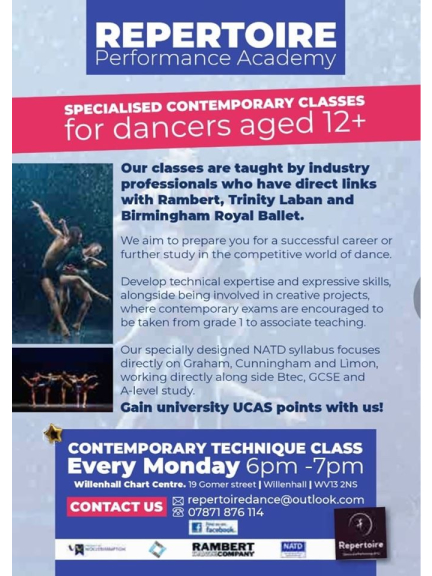 Looking for high quality and professional contemporary dance classes? Come and join Repertoire Dance and Performing Arts!
Classes held Mondays 6-7pm for dancers aged 12 and up! 
Specially designed NATD syllabus focuses directly on Graham, Limon and Cunningham techniques working directly alongside GCSE, BTEC and A-Level study. 
For more information contact Laura on 07871 876114. 
Classes are held at Willenhall Chart Centre, 19 Gomer Street, Willenhall, WV13 2NS. 
Future dates
Monday 27th January 6:00pm until 7:00pm
Monday 3rd February 6:00pm until 7:00pm
Monday 10th February 6:00pm until 7:00pm
Monday 17th February 6:00pm until 7:00pm
Monday 24th February 6:00pm until 7:00pm
Monday 2nd March 6:00pm until 7:00pm
Monday 9th March 6:00pm until 7:00pm
Monday 16th March 6:00pm until 7:00pm
Monday 23rd March 6:00pm until 7:00pm
Monday 30th March 6:00pm until 7:00pm
Monday 6th April 6:00pm until 7:00pm
Monday 13th April 6:00pm until 7:00pm
Monday 20th April 6:00pm until 7:00pm
Monday 27th April 6:00pm until 7:00pm
Monday 4th May 6:00pm until 7:00pm
Monday 11th May 6:00pm until 7:00pm
Monday 18th May 6:00pm until 7:00pm
Monday 25th May 6:00pm until 7:00pm
Monday 1st June 6:00pm until 7:00pm
Monday 8th June 6:00pm until 7:00pm
Monday 15th June 6:00pm until 7:00pm
Monday 22nd June 6:00pm until 7:00pm
Monday 29th June 6:00pm until 7:00pm
Monday 6th July 6:00pm until 7:00pm
Monday 13th July 6:00pm until 7:00pm