Christmas Day at Little India Walsall
51-53 Liskeard Road
Park Hall
Walsall
WS5 3EY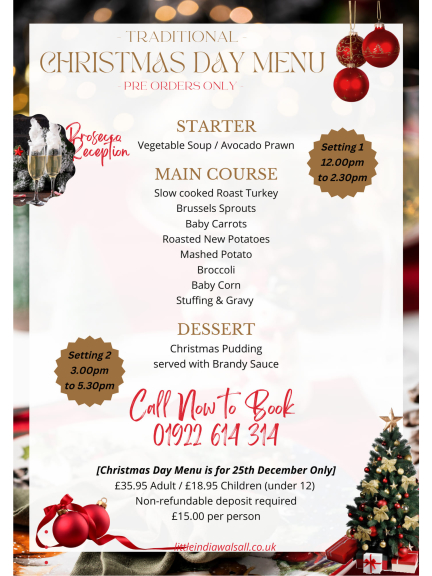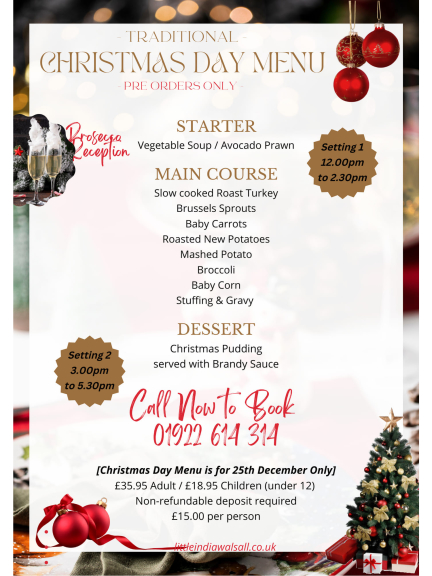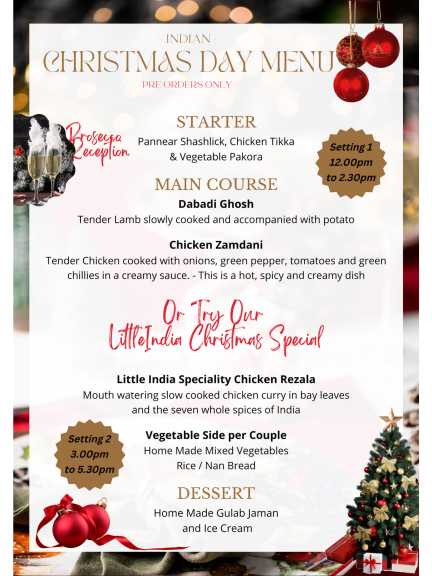 As the holiday season approaches, Little India Walsall is all set to sprinkle a bit of magic on Christmas dining. This year, they are offering a unique fusion of flavours with a special Christmas Menu that's bound to delight both traditionalists and culinary adventurers alike.
Traditional Christmas Dinner or Indian Delights? You Decide!
At Little India Walsall, dinners will have the choice of savoring a traditional Christmas dinner or indulging in a tantalizing Indian menu. It's an opportunity to spice up your holiday season and explore the rich, aromatic world of Indian cuisine.
Whether you're looking for a traditional Christmas experience or a flavorful departure from the norm, Little India Walsall has something special in store for you this holiday season. Don't miss out on this unique culinary adventure!
Select from Two Settings 
Setting One:

12:00 PM - 2:30 PM

Setting Two:

3:00 PM - 5:30 PM
Pricing and Reservation Details
The cost for adults is £35.95 per person, and for children under 12, it's just £18.95. Please note that a non-refundable deposit of £15 per person is required when booking. To secure your spot for this festive feast, simply call 01922 614 314.
Book your table today and treat your taste buds to a Christmas celebration like no other, where East meets West in a fusion of festive flavors.