Calderfields Christmas Fayre
93 Aldridge Road,
Walsall
WS4 2JS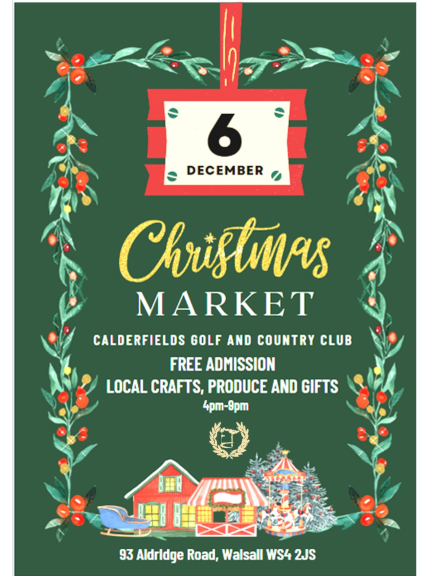 Calderfields Christmas Fayre, Wednesday 06th December 2023 from 16:00: A Unique Shopping Experience
On Wednesday, December 6th, 2023, from 16:00 onwards, Calderfields will be transformed into a winter wonderland as it hosts its much-anticipated Christmas Fayre. This annual event promises to be a festive extravaganza, offering visitors a unique shopping experience with a wide array of bespoke gifts that are not typically available in shopping malls.
The Fayre will also feature a delightful selection of festive food and drink stalls. Visitors can indulge in seasonal treats, such as mulled wine, roasted chestnuts, and freshly baked mince pies, adding to the overall festive ambiance of the event. It's a wonderful opportunity to savor the flavors of the season while perusing the unique gifts on offer.
So, mark your calendars for Wednesday, December 6th, 2023, and head to Calderfields for a magical Christmas Fayre experience. Discover unique, handcrafted gifts, savor the tastes of the season, and immerse yourself in the festive spirit with family and friends.