Baby Play Fitness with Ruby Doo
Salem Methodist Church
High Street
Cheslyn Hay
Walsall
WS6 7AB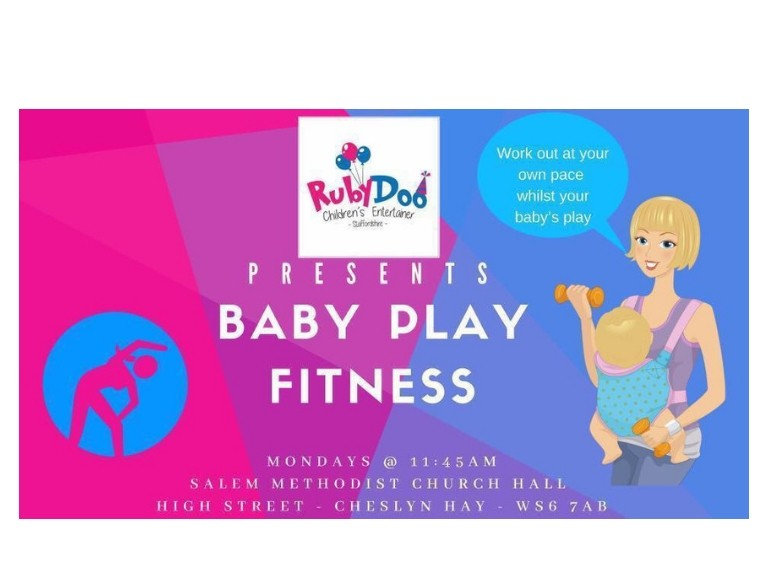 Got a young baby but would like to get fit and make new friends? Then why not try Baby Play Fitness!
Ruby Doo offer a child friendly environment where you can bring your baby to play whilst working out.
Suitable for babies from 6 weeks to 1 year

Babies can either sleep whilst you work out or join in the fun in a bouncer or play area.
Adults £5 per session
For further details and to book in, give the Ruby Doo team a call on 
07983 174755
Baby Play Yoga sessions and Toddler Play Yoga sessions also available on Fridays, suitable for birth - 12 months and 1 - 3 year olds when you can enjoy yoga together - why not have a look at Ruby Doo's facebook page for full details and times - click here
Future dates
Monday 8th October 11:45am until 1:15pm
Monday 15th October 11:45am until 1:15pm
Monday 22nd October 11:45am until 1:15pm
Monday 29th October 11:45am until 1:15pm
Monday 5th November 11:45am until 1:15pm
Monday 12th November 11:45am until 1:15pm
Monday 19th November 11:45am until 1:15pm
Monday 26th November 11:45am until 1:15pm
Monday 3rd December 11:45am until 1:15pm