Yummy Chocolate Cookies
11th December 2015
... Comments
---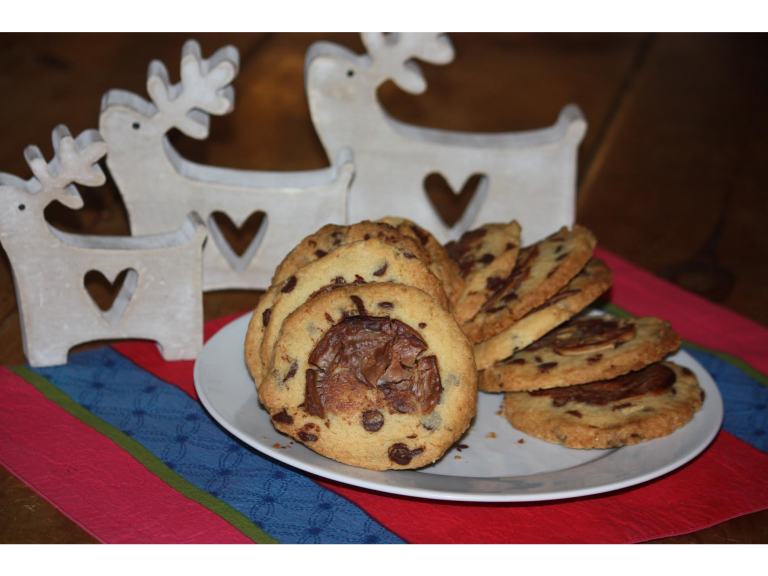 Chocolate Chip Cookies
This is a recipe that I pinched from one of my customer's grandsons. He offered me one a couple of weeks ago, and I liked them so much he gave me the recipe. They have become a firm favourite in our house so I thought I would share them with you.


Equipment
A mixing bowl
A baking sheet
Parchment paper.
Ingedients
300g plain flour
200g butter
100g caster sugar
1 pack of chocolate chips
1 tube of Milky Way paste (optional but very tasty)
Method
Turn on the oven to 180C or gas mark 4.
Put the sugar, flour and softened butter in a bowl and rub in until the mixture becomes like breadcrumbs.
Add the chocolate chips, and continue to mix together until it becomes a firm dough. Turn onto a work surface and knead until it becomes a firm thick log.
Cut the log into 12 thick slices. Place them on the baking sheet, press them down a little, and then use a knife to smear the Milky Way paste on the top of each cookie, if using.
Bake in the oven for about 10 minutes or until golden brown.
When cooked, leave to cool for 5 minutes on the baking sheet and then place on a cooling rack.
We like them a little warm, and they will keep in a tin for about five days but ours never last that long!
This recipe can also be found in the Barton Bugle