PopUp Moreton takes on a British theme
26th February 2013
... Comments
---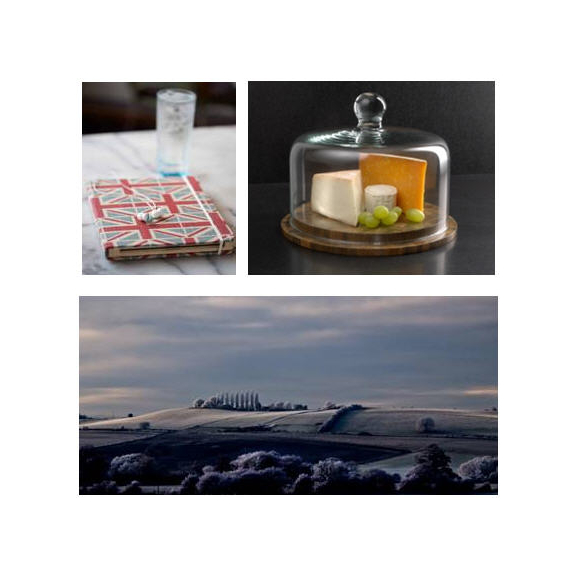 aukward (http://www.aukward.com/) is the name of the Chipping Norton-based company producing a 100% British iPad case, designed and lovingly made by hand in the UK, which is both beautiful and functional, offering iPads all-round protection. Made from buckram, fabric or leather, aukward cases are bound using traditional bookbinding methods, but provide modern functionality such as an automatic on/off facility as you open and shut your case, and fold-over ability for ease of typing. Particularly patriotic are the cases covered in a Union Jack cloth Prices start from £69. ]
Provenance Reuseful (http://thisisprovenance.com/) is an eco/ethical company based in Draycott, which designs and produces high quality kitchen and tableware (such as chopping boards, cheese boards – see above – and cookbook stands) using recycled, reclaimed and sustainable materials. A relatively young company, which has only been trading for 18 months, Provenance Reuseful is already supplying a major national retailer, but believes passionately that High Streets are the besting hearts of communities, hence their interest in taking part in PopUp Moreton.
Bob Fryer (http://www.photography2010.co.uk/ ) hails originally from Cheltenham, but now lives in Winchcombe, from where he makes frequent forays to take striking photographs of the Cotswold landscape that have already been used in several books and on tourist websites. He will be using PopUp Moreton to sell cards and prints of his images, with a view to opening up his own retail outlet at some point in the future.
PopUp Moreton is part of the national enterprise campaign StartUp Britain, which ran a series of Pop-Up Shops in London in late 2012, offering young companies an opportunity to trial their products in a cost-effective retail environment. Moreton-in-Marsh is the first location outside the capital to host a pop-up shop as part of this fantastic new initiative. In return for a fee of just £100 (to include rent, insurance and Wifi access to enable people to carry on working while in situ), each company will be able to spend two weeks trialling a physical retail space, generate marketing buzz and raise the profile of their products and/or company, gain invaluable customer service experience, and test the market through a low-risk and relatively inexpensive method.