Christmas Party Nights in Great British Style at The Beckford Inn
11th November 2010
... Comments
---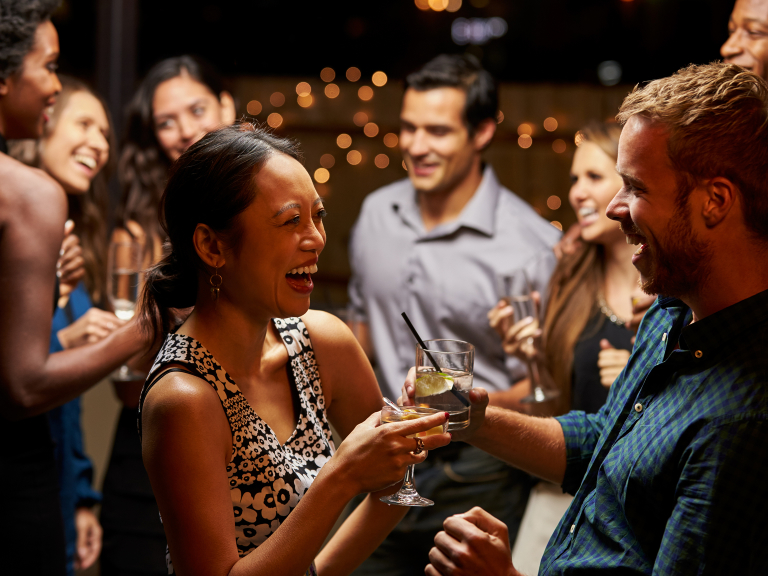 Christmas Party Nights in Great British Style at The Beckford Inn

Though their newly refurbished restaurant dining area easily caters for 80, The Beckford Inn is now also able to offer a stunning high quality brand new Marquee, with state of the art heating, stunning decoration, suitable for 160 guests or 120 with a dance floor.

Also:
Discover a beautiful new Restaurant with great Chefs using only the finest, freshest Vale of Evesham and other local produce. The owners Jane and Anthony are now proud to be producing a wide range of their own vegetables too.

So with all this in mind there are some fantastic opportunities for you and your family, friends or colleagues to celebrate Christmas in style:

"Why not book one of our Great Disco Party Nights in our new Marquee 4th, 10th, 11th, 17th & 18th December - £24.95 p p – Book quick as they're filling up fast!"

Or

"Book a special Gourmet Meal in our beautiful restaurant with the finest, freshest local cuisine! £24.95 for 3 courses all week or £19.95 per person for 2 courses Monday to Thursday only."

Contact us for more information TODAY!!
Cheltenham Road (A46), Beckford, Nr Tewkesbury, Gloucestershire GL20 7AN Telephone: 01684 869572

See below for full details of our special menus for each:

Gourmet Christmas Restaurant Menu

3 Course Menu £24.95 - available throughout the week
2 Course Menu £19.95 - available Midweek Monday to Thursday

Starters choose from:

Home-made Roasted Tomato & Red Pepper Soup topped with Goats Cheese & Croutons(V)
---------------
Home-made Winter Game Terrine scented with Juniper berries, laced with Madeira and served with Toasted Brioche
---------------
Gravlax – cured Scottish Salmon served with a home-made Creamy Dill Mayonnaise
---------------
Wild Mushrooms in a Creamy Stilton Sauce with White Wine and served in a Filo Ladle (V)

Mains choose from:

Traditional Roast Turkey with Roast
Potatoes, Pigs in Blankets, Home-made
Chestnut & Onion Stuffing and Cranberry,
Orange & Port Sauce
---------------
Slow Roasted Local Venison Bourguignon Style with button Mushrooms, Baby Onions and laced with lashings of Red Wine
---------------
Pan Fried Sea Bass Fillets with a Prawn, Fresh Tarragon Cream sauce laced with Champagne on a bed of Potato Rösti
---------------
Roasted Vegetable & Mozzarella Mille-feuille topped with Sesame Seeds and served with New Potatoes and Winter Salad (V)
---------------

Desserts choose from:

Traditional Christmas Pudding served with Custard and Tipsy Grand Marnier Butter
---------------
Creamy Vanilla Pod Panna Cotta served with a Winter Berry Compote laced with Port
---------------
Assiette of Beckford's Desserts - trio of mini home-made desserts including a Cappuccino Chocolate Mousse, Tipsy Cranberry & Berry Fool, Bailey's Crème Brûlée
--------------
Classic British Cheeses served with home-made Chutney & Oatcakes

++++++++++++++++++++++++++++++++++++++++++++++++++++++++++++++++++++++++++++++++++

Christmas Party Marquee Menu £24.95 (Only available on selected Nights)

Starters choose from:

Home-made Roasted Tomato & Fresh
Basil Soup (V)
---------------
Smoked Mackerel Pâté &
Seeded Granary Roll
---------------
Baked Mushrooms with Fresh Tarragon, Cream and laced with Brandy (V)

Mains choose from:

Traditional Roast Turkey with Roast Potatoes, Sage & Onion Stuffing and Cranberry Sauce
---------------
Beef & Ale Casserole with Button
Mushrooms and Root Vegetables
---------------
Roasted Salmon Fillet with a Cheddar & Herb Crust and a hint of Lemon
---------------
Roasted Root Vegetables on a Bed of Penne Pasta served with Garden Herb & Tomato Sauce laced with Red Wine and topped with Fresh Parmesan & Parmesan Crisp (V)
---------------

Desserts choose from:

Traditional Christmas Pudding served with Brandy Sauce
---------------
Classic Winter Tart with Bramley Apples and Tipsy Mince Meat, served with Cream
---------------
Creamy Red Berry Fool with a hint of Port and served with Chocolate