Beat the Autumnal Blues with James Wronski's Warming Beef Stew
5th October 2010
... Comments
---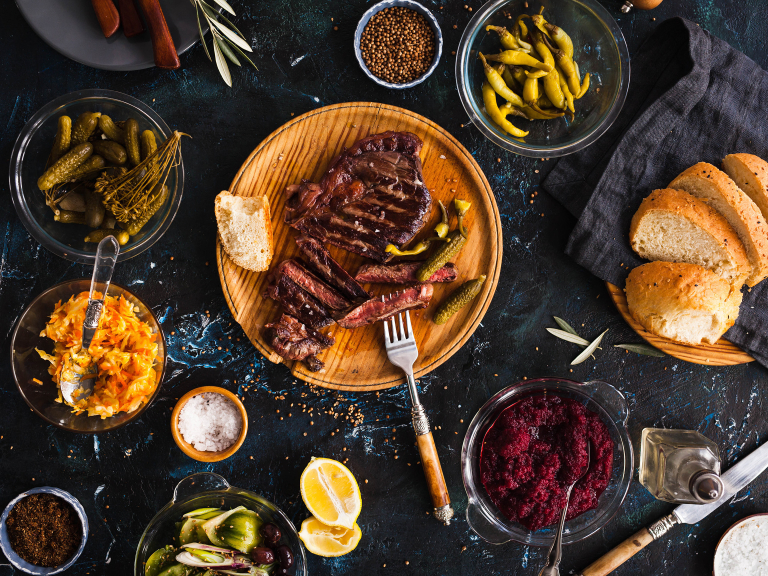 Hi everyone!
James Wronski here, Head Chek from Tewkesbury Park Hotel.

October has already reminded us that autumn (in fact it feels like winter in some parts already!) is firmly upon us. With that in mind this week's recipe is for a lovely warming Beef Stew.

Ingredients

•    2kg stewing beef, cut into cubes
•    200g bacon
•    Splash of olive oil or vegetable  oil
•     Peel 150g baby onions
•    2009 button mushrooms left whole
•    salt and pepper
•    1 tbsp chopped parsley
•    1 tbsp chopped thyme
•    2 cloves of garlic crushed and chopped
•    425ml of red wine
•    425ml beef stock or chicken stock ( get this from your supermarket) 
•    Flour

Preparation

1.    Brown the beef and bacon in the  oil in a hot casserole dish or thick bottom pan
2.    Remove the meat and colour the onions, mushrooms one ingredient at a time
3.    Place all the ingredients back in  the casserole dish or pan , along with the herbs and garlic.
4.    Cover with red wine and stock and simmer for one hour or until the meat and vegetables are tender.
5.    When the stew is cooked, remove the meat and vegetables.
6.    Bring the remaining liquid to the boil and thicken with a flour and water(make a paste and gradually add whilst whisking  until liquid thickens slightly)
7.    Replace the meat and vegetables, and taste for seasoning.
8.    Serve with mash potato or rice
Why not buy your chicken  from Halfords Butchers on Tewkesbury High Street, and a nice bottle of wine from That Wine Place?
Remember, you can try out many of our great recipes at Tewkesbury Park Hotel , relax at Green's Brasserie or enjoy some fine dining from our latest seasonal menu at The Garden Restaurant.
I hope that this helps to keep these dreary days at bay, and who knows we might get some more sunshine still!

Until next time....

...enjoy !!

James