Dealing with Hazardous Waste in Shropshire
7th February 2017
... Comments
---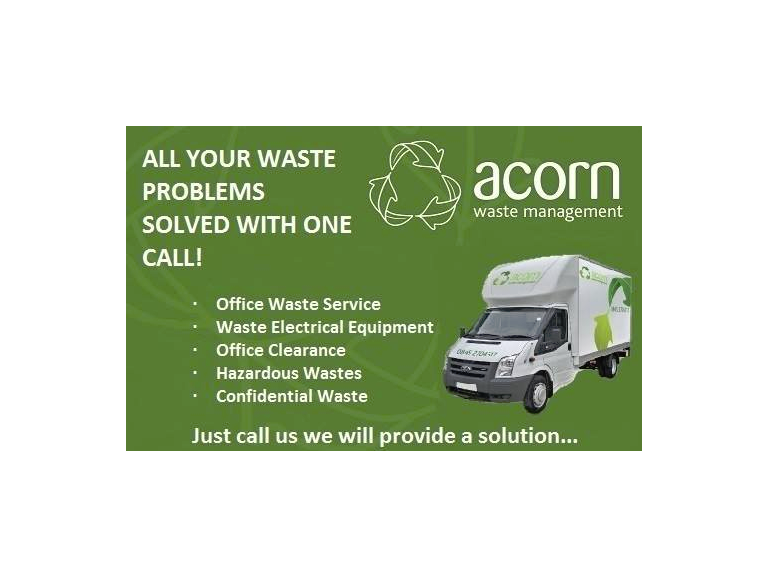 That's where Shropshire based Acorn Waste Management step in. As well as solving your hazardous waste problems, they also care about protecting the environment, so work closely with their supply partners who continue to invest in the latest waste recovery and recycling technology. This enables them to maximise recycling rates as well as deliver site by site reports for single or multiple projects.  
Acorn Waste are experts in their field, having provided hassle-free waste collection, treatment and recovery solutions since 2002. They offer affordable waste management services that are as good for you as they are for the environment; backed up by rapid response times, value for money and excellent customer service.  
Acorn Waste Management offers the following services:  
Asbestos service:
Collection and disposal
Batteries:
Multiple container options
Contaminated waste services:
Packaging, shotblast, concrete, soils
Emergency spill response:
24 hour availability and response
Fluorescent:
Tubes and lamps
Gas bottles
All sizes are taken care of, we offer multiple collection options
Hazardous Site registrations:
Administration and support
Hazardous waste management:
We can dispose of all forms of C.O.S.H.H. waste
Japanese knotweed:
Treatment and excavation solutions
Site clearances:
Fly tipped material, de-clutter services, excavations, and void property clearance
Tyres
On or off rim
WEEE
Multiple container and collection options
Acorn deal with the collection, recycling and disposal of all your waste, including problematic and hazardous waste streams.  Hazardous waste can be a minefield of legislation so Acorn Waste Management offer a complete service to shoulder the responsibility surrounding hazardous waste - all designed to protect their customers. Regardless of how technical or hazardous the waste may be, they ensure you find the best solution.  
Acorn Waste Management offer:
Individual cases and multi-site assessment
Full legislative compliance and corporate social compliance
A knowledgeable team to assist your business and provide no-nonsense, practical solutions backed up by comprehensive, easy to understand reports.
All drivers are ADR Certified. 
For rapid, cost effective solutions to the problem of disposing of all hazardous waste, contact Acorn Waste Management in Shropshire on 01952 427860