Stay and Play
Compass Wellbeing
Unit 7 Belvedere Trading Estate
Taunton
TA1 1BH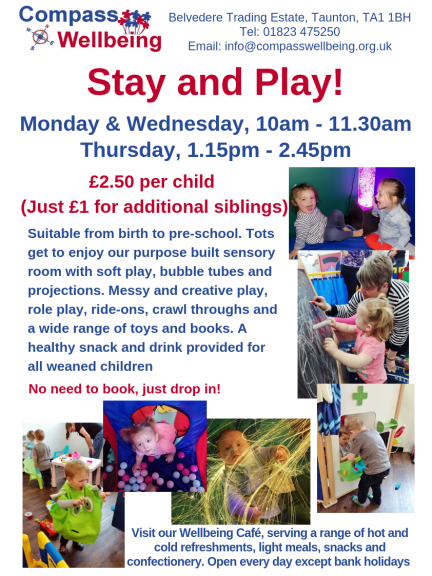 Suitable from birth to pre-school. Tots get to enjoy our purpose built sensory room with soft play, bubble tubes and projections. Messy and creative play, role play, ride-ons, crawl throughs and a wide range of toys and books. A healthy snack and drink provided for all weaned children. NO NEED TO BOOK, JUST DROP IN
Session on Monday and Wednesday morning and Thursday afternoons. Just £2.50 per child and £1 for each additional sibling.
Stay and Play at Compass Wellbeing is suitable from birth to pre-school. Tots get to enjoy our purpose built sensory room with soft play, bubble tubes and projections. Messy and creative play, role play, ride-ons, crawl throughs and a wide range of toys and books. A healthy snack and drink provided for all weaned children.
NO NEED TO BOOK, JUST DROP IN
The Compass Wellbeing Cafe is open throughout, serving a wide range a light meals and snacks, hot and cold beverages, cakes and confectionery.
Free onsite parking
Future dates
Monday 2nd September 10:00am until 11:30am
Wednesday 4th September 10:00am until 11:30am
Thursday 5th September 1:15pm until 2:45pm
Monday 9th September 10:00am until 11:30am
Wednesday 11th September 10:00am until 11:30am
Thursday 12th September 1:15pm until 2:45pm
Monday 16th September 10:00am until 11:30am
Wednesday 18th September 10:00am until 11:30am
Thursday 19th September 1:15pm until 2:45pm
Monday 23rd September 10:00am until 11:30am
Wednesday 25th September 10:00am until 11:30am
Thursday 26th September 1:15pm until 2:45pm
Monday 30th September 10:00am until 11:30am
Wednesday 2nd October 10:00am until 11:30am
Thursday 3rd October 1:15pm until 2:45pm
Monday 7th October 10:00am until 11:30am
Wednesday 9th October 10:00am until 11:30am
Thursday 10th October 1:15pm until 2:45pm
Monday 14th October 10:00am until 11:30am
Wednesday 16th October 10:00am until 11:30am
Thursday 17th October 1:15pm until 2:45pm
Monday 21st October 10:00am until 11:30am
Wednesday 23rd October 10:00am until 11:30am
Thursday 24th October 1:15pm until 2:45pm
Monday 28th October 10:00am until 11:30am
Wednesday 30th October 10:00am until 11:30am
Thursday 31st October 1:15pm until 2:45pm
Monday 4th November 10:00am until 11:30am
Wednesday 6th November 10:00am until 11:30am
Thursday 7th November 1:15pm until 2:45pm
Monday 11th November 10:00am until 11:30am
Wednesday 13th November 10:00am until 11:30am
Thursday 14th November 1:15pm until 2:45pm
Monday 18th November 10:00am until 11:30am
Wednesday 20th November 10:00am until 11:30am
Thursday 21st November 1:15pm until 2:45pm
Monday 25th November 10:00am until 11:30am
Wednesday 27th November 10:00am until 11:30am
Thursday 28th November 1:15pm until 2:45pm
Monday 2nd December 10:00am until 11:30am
Wednesday 4th December 10:00am until 11:30am
Thursday 5th December 1:15pm until 2:45pm
Monday 9th December 10:00am until 11:30am
Wednesday 11th December 10:00am until 11:30am
Thursday 12th December 1:15pm until 2:45pm
Monday 16th December 10:00am until 11:30am
Wednesday 18th December 10:00am until 11:30am
Thursday 19th December 1:15pm until 2:45pm