Compass Wellbeing Health and Beauty
Compass Wellbeing
Unit 7 Belvedere Trading Estate
Taunton
TA1 1BH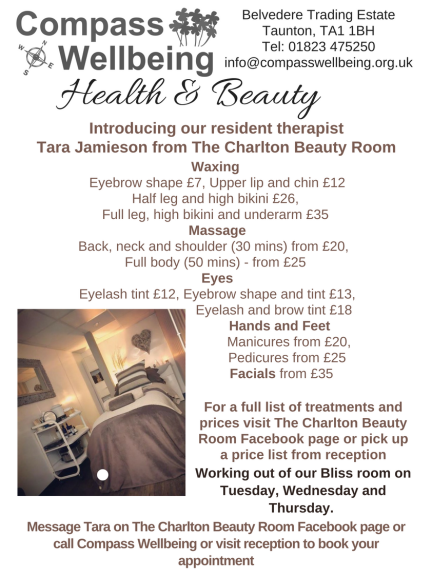 Introducing resident therapist Tara from The Charlton Beauty Room available at Compass Wellbeing every Tuesday, Wednesday and Thursday. Tara offers a range of health and beauty treatments designed for ultimate relaxation.
Tara is available on Tuesday, Wednesday and Thursday at Compass Wellbeing
Waxing
Eyebrow shape £7, Upper lip and chin £12
Half leg and high bikini £26, Full leg, high bikini and underarm £35
Massage
Back, neck and shoulder (30 mins) from £20, 
Full body (50 mins) - from £25
Eyes
Eyelash tint £12, Eyebrow shape and tint £13,
Eyelash and brow tint £18
Hands and Feet
Manicures from £20, Pedicures from £25
Facials from £35
For a full list of treatments and prices visit The Charlton Beauty Room Facebook page or pick up a price list from the Compass Wellbeing reception.
Message Tara on The Charlton Beauty Room Facebook page or call Compass Wellbeing on 01823 475250 or visit reception to book your appointment
Future dates
Wednesday 19th December 8:00am until 6:00pm
Thursday 20th December 8:00am until 6:00pm
Wednesday 2nd January 8:00am until 6:00pm
Thursday 3rd January 8:00am until 6:00pm
Tuesday 8th January 8:00am until 6:00pm
Wednesday 9th January 8:00am until 6:00pm
Thursday 10th January 8:00am until 6:00pm
Tuesday 15th January 8:00am until 6:00pm
Wednesday 16th January 8:00am until 6:00pm
Thursday 17th January 8:00am until 6:00pm
Tuesday 22nd January 8:00am until 6:00pm
Wednesday 23rd January 8:00am until 6:00pm
Thursday 24th January 8:00am until 6:00pm
Tuesday 29th January 8:00am until 6:00pm
Wednesday 30th January 8:00am until 6:00pm
Thursday 31st January 8:00am until 6:00pm
Tuesday 5th February 8:00am until 6:00pm
Wednesday 6th February 8:00am until 6:00pm
Thursday 7th February 8:00am until 6:00pm
Tuesday 12th February 8:00am until 6:00pm
Wednesday 13th February 8:00am until 6:00pm
Thursday 14th February 8:00am until 6:00pm
Tuesday 19th February 8:00am until 6:00pm
Wednesday 20th February 8:00am until 6:00pm
Thursday 21st February 8:00am until 6:00pm
Tuesday 26th February 8:00am until 6:00pm
Wednesday 27th February 8:00am until 6:00pm
Thursday 28th February 8:00am until 6:00pm
Tuesday 5th March 8:00am until 6:00pm
Wednesday 6th March 8:00am until 6:00pm
Thursday 7th March 8:00am until 6:00pm
Tuesday 12th March 8:00am until 6:00pm
Wednesday 13th March 8:00am until 6:00pm
Thursday 14th March 8:00am until 6:00pm
Tuesday 19th March 8:00am until 6:00pm
Wednesday 20th March 8:00am until 6:00pm
Thursday 21st March 8:00am until 6:00pm
Tuesday 26th March 8:00am until 6:00pm
Wednesday 27th March 8:00am until 6:00pm
Thursday 28th March 8:00am until 6:00pm
Tuesday 2nd April 8:00am until 6:00pm
Wednesday 3rd April 8:00am until 6:00pm
Thursday 4th April 8:00am until 6:00pm
Tuesday 9th April 8:00am until 6:00pm
Wednesday 10th April 8:00am until 6:00pm
Thursday 11th April 8:00am until 6:00pm
Tuesday 16th April 8:00am until 6:00pm
Wednesday 17th April 8:00am until 6:00pm
Thursday 18th April 8:00am until 6:00pm
Tuesday 23rd April 8:00am until 6:00pm
Wednesday 24th April 8:00am until 6:00pm
Thursday 25th April 8:00am until 6:00pm
Tuesday 30th April 8:00am until 6:00pm
Wednesday 1st May 8:00am until 6:00pm
Thursday 2nd May 8:00am until 6:00pm
Tuesday 7th May 8:00am until 6:00pm
Wednesday 8th May 8:00am until 6:00pm
Thursday 9th May 8:00am until 6:00pm
Tuesday 14th May 8:00am until 6:00pm
Wednesday 15th May 8:00am until 6:00pm
Thursday 16th May 8:00am until 6:00pm
Tuesday 21st May 8:00am until 6:00pm
Wednesday 22nd May 8:00am until 6:00pm
Thursday 23rd May 8:00am until 6:00pm
Tuesday 28th May 8:00am until 6:00pm
Wednesday 29th May 8:00am until 6:00pm
Thursday 30th May 8:00am until 6:00pm