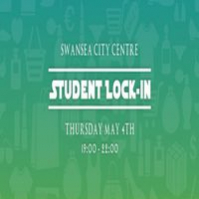 The UK's EXCLUSIVE #studentdiscount shopping event, is coming to Swansea City Centre, this for 1 night ONLY - Thursday 4th May 19:00 - 22:00
CALLING ALL SWANSEA STUDENTS!
Shopping bags at the ready as the BEST student shopping experience is coming to Swansea City Centre, this Spring!
Prepare your student selves for a night full of MASSIVE discounts, offers and giveaways; exclusively for the students of Swansea! Full to the brim with brands, find discounts not only in the Quadrant Centre but on Princess Way, Oxford Street AND Plymouth Street. Brought to you by Swansea BID and Big Heart of Swansea
Expect LIVE entertainment through-out the centre PLUS freebies from your favourite brands; as well as many more special surprises that you won't want to miss......
Simply register your Student Lock-In account and sign up FREE via www.studentlockin.com/swansea. Bring along proof of your registration on the night, along with your valid student ID and we'll exchange it for you exclusive discount wristband; granting you access to ALL of the activity waiting for you inside the mall. 

This really is one event you won't want to miss this freshers! Register for FREE today.
Stay connected with us on FB and Twitter so you don't miss discount and offer updates hot off the press
FB - @SwanseaCitySLI
Twitter - @SLISwansea
Price:
FREE: GBP 0
Category: Retail | Shopping
*thebestof cannot be held responsible for any changes, amends or cancellations of an event
Contact us: 02920647007

visit us

The Quadrant Shopping Centre, Swansea, West Glamorgan, United Kingdom
SA1 3QW

follow us

This is a live stream from Twitter - not the voice of thebestof!

find us on facebook