Sudbury River Trips - River Stour Trust
The Granary
Quay Lane
Sudbury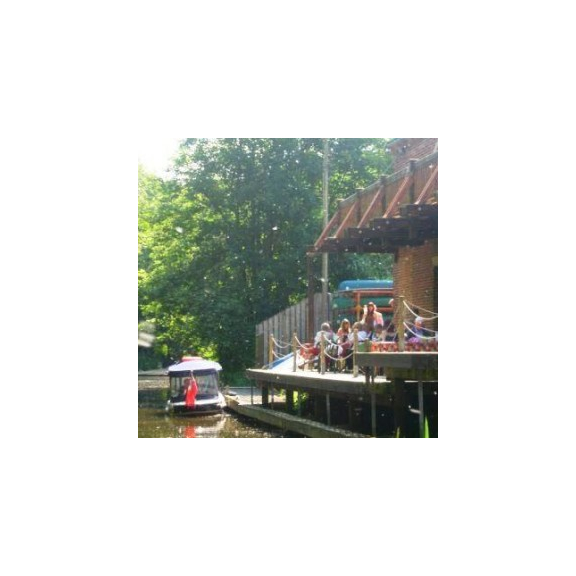 The River Stour Trust Boat Trips return this Easter
2017 Season
Easter Sunday 15 April until Sunday 29 October: All Scheduled Trips and Private Charters
Please note:
Calls to the 0844 numbers cost 7p per minute plus your phone company's access charge
All trips are dependent on availability, weather and river conditions to ensure the safety of our passengers and volunteers.
The boats only operate within civil twilight hours for safety and insurance reasons.
Passenger numbers on all our boats are subject to load capacity.
The River Stour Trust operate the boat trips and are entirely separate to The Henny Swan who run the pub and restaurant. Therefore, payments to The Henny Swan are not related to the River Stour Trust boat trip. Boat fares are payable directly to the River Stour Trust.
PRIVATE CHARTERS
All charter enquiries: 0844 800 5016*
Charters are usually up to 4 hours but a lesser period or additional hours can be arranged to suit your requirements. The charter charge is usually in the region of £100-200 depending on which boat is required. We are able to assist with some catering arrangements e.g. picnic hamper, afternoon tea at our venues.
There are a range of trips you can enjoy, such as:
Return cruise to Great Henny where passengers can disembark to enjoy a meal at The Henny Swan
A visit to our Visitor Education Centre (VEC) to enjoy a picnic by the river
Make arrangements for afternoon tea at the RST Tea Room at The Granary
River trips for guests attending functions at RST venues or The Henny Swan
SCHEDULED TRIPS & FARES
SATURDAYS & SUNDAYS
Henny Swan Lunch Cruise
Return cruise with lunch stop at The Henny Swan, CO10 7LS (click here for link to map)
11.00am departure from the Granary, Quay Lane, CO10 2AN (click here for link to map)
Travel through Great Cornard Lock – Midday arrival at The Henny Swan
Return trip departs at 2.00pm to arrive back by 3.00pm
Fares
Adult £15.00, Child £7.50
Advance booking advisable  – 0844 800 5015*
Book your table at The Henny Swan by calling 01787 267953

SATURDAYS & SUNDAYS
Return Trips from The Henny Swan, CO10 7LS
Available when lunch cruise trip is running
Non-landing return trips to Great Cornard Lock
– Departing at 12.15pm (returning for lunch at 1pm)
– Departing at 1.15pm (returning for lunch at 2pm)
Fares
Adult £5.00, Child £3.00
Advance booking advisable  – 0844 800 5015*
Book your table at The Henny Swan by calling 01787 267953
SUNDAYS & BANK HOLIDAY MONDAYS
(Also on Wednesday Afternoons in August)
Return trips to Great Cornard Lock
Regularly departing from the Granary Tea Room, Quay Lane, CO10 2AN (click here for link to map)
Half hour non-landing return trip
11.00am – last trip at 4.30pm, no pre-booking before the day
(1.00pm-4.00pm on Wednesday afternoons in August)
Fares
Adult £5.00, Child £3.00
Future dates
Sunday 23rd July 11:00am until 5:00pm
Saturday 29th July 11:00am until 5:00pm
Sunday 30th July 11:00am until 5:00pm
Saturday 5th August 11:00am until 5:00pm
Sunday 6th August 11:00am until 5:00pm
Saturday 12th August 11:00am until 5:00pm
Sunday 13th August 11:00am until 5:00pm
Saturday 19th August 11:00am until 5:00pm
Sunday 20th August 11:00am until 5:00pm
Saturday 26th August 11:00am until 5:00pm
Sunday 27th August 11:00am until 5:00pm
Saturday 2nd September 11:00am until 5:00pm
Sunday 3rd September 11:00am until 5:00pm
Saturday 9th September 11:00am until 5:00pm
Sunday 10th September 11:00am until 5:00pm
Saturday 16th September 11:00am until 5:00pm
Sunday 17th September 11:00am until 5:00pm
Saturday 23rd September 11:00am until 5:00pm
Sunday 24th September 11:00am until 5:00pm
Saturday 30th September 11:00am until 5:00pm
Sunday 1st October 11:00am until 5:00pm
Saturday 7th October 11:00am until 5:00pm
Sunday 8th October 11:00am until 5:00pm