SABOTAGE, Stoke-on-Trent - 23 June - 10 July 2022
NoFit State Big Top
Central Forest Park
Chell Street
Stoke-on-Trent
ST1 6BB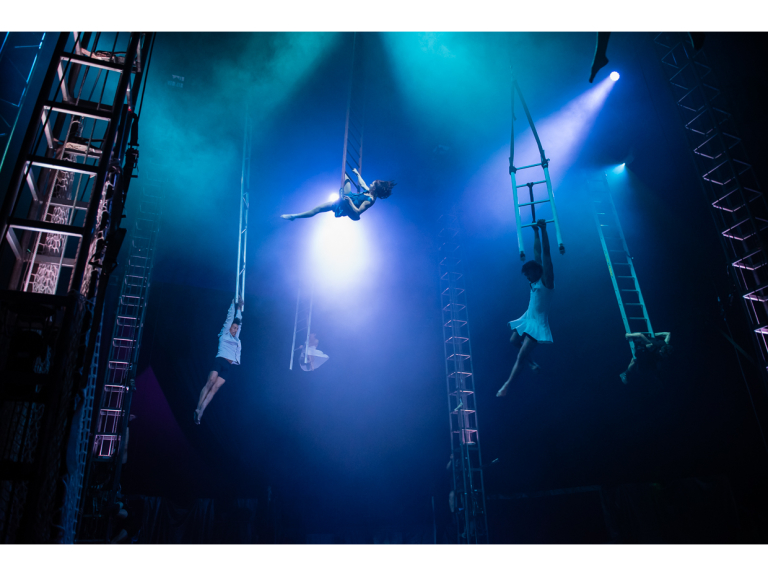 Come and join another full-on, boisterous, and audaciously fierce performance with the UK's most extraordinary circus NoFit State under the Big Top. Matinee and evening shows from 23 June - 10 July 2022.
NoFit State Circus is back with a new Big Top contemporary circus show. This time it is darker and grittier, with a more subversive edge.
A boisterous performance with our trademark large scale spectacle, awe inspiring circus acts, new apparatus, exceptional original music, live projections, and more theatrical elements.
SABOTAGE challenges the status quo, it is an energising, uplifting and socially relevant contemporary circus production. Our personal journeys bring us to this place. Our struggles, and privileges, have shaped that journey. And yet we find ourselves in the common meeting ground of the circus tent, with the common language of circus. SABOTAGE explores our separation, and our belonging. Saboteurs stand out. They stand up. They challenge the establishment. They are heard.
Pricing
£24 Full Price
£17 Concession
£65 Family of 4*
Nothing in SABOTAGE makes it unsuitable for children, but it was not made specifically for them.
////
SABOTAGE
Perfformiad arall afieithus, carlamus a digywilydd o danbaid yn arddull nodweddiadol NoFit State.
Mae SABOTAGE yn sioe fawr ysblennydd yn null y syrcas gyfoes ag iddi naws dywyllach, fwy garw a mwy chwyldroadol na'n sioeau arferol. A ninnau yn ôl yn y Big Top ag eitemau newydd anhygoel, cerddoriaeth wreiddiol, offer newydd a theimlad mwy theatraidd, mae SABOTAGE yn herio'r status quo.
Dyma sioe syrcas gyfoes sy'n eich bywiogi, yn codi'ch calon ac sy'n gymdeithasol-berthnasol. Ein teithiau personol sy'n dod â ni i'r man hwn. Mae ein brwydrau a'n breintiau wedi llywio'n taith. Serch hynny, dyma ni'n dod at ein gilydd ar dir cyffredin pabell y syrcas, a syrcas yn iaith gyffredin rhyngom. Mae SABOTAGE yn mynd i'r afael â'r hyn sy'n ein gwahanu a'r hyn sy'n gwneud i ni berthyn. Mae saboteurs yn sefyll allan. Maen nhw'n gwrthsefyll. Maen nhw'n herio'r sefydliad. Maen nhw'n cael eu clywed.
Syrcas i oedolion yw SABOTAGE, ond nid yw'n anaddas i blant.
Cyfarwyddir gan Firenza Guidi.