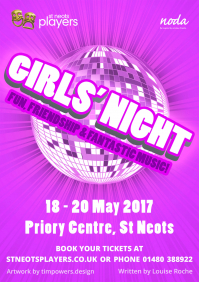 St Neots Players Present - Girls Night
Thursday 18th May
7:30pm until 9:45pm See future dates
St Neots Players Present Girls Night at The Priory Centre - Thursday May 18th - Saturday May 20th 2017....Not to be missed
St Neots Players Present Girls Night at The Priory Centre 
Girls Night is set on a wild, tearful, joyous evening out in a Karaoke Nightclub.
"Its big night out tonight, all the girls are coming. I'm looking forward to it. I'm Sharon and my daughter Candi-Rose has just got engaged, so there's a bit of a party. Unfortunately I can't be there on account of my being dead"
Thursday 18th May start at 7.30pm
 Friday 19th May start at 7.30pm
 Saturday 20th May start at  7.30pm
Adult Ticket (Stalls & Tiers) - £12.00
Concession (Stalls & Tiers) - £10.00
Book online at www.stneotsplayers.co.uk or phone the Box office...  01480 388922
If you have any questions, simply click here to visit our CONTACTS page and send a message to the box office, we'll get right back to you!
Future Dates
Friday 19th May
7:30pm until 9:45pm
Saturday 20th May
7:30pm until 9:45pm
*thebestof cannot be held responsible for any changes, amends or cancellations of an event
Contact us: 01480 388922

visit us

Priory Lane
St Neots
Cambs,
PE19 2BH

follow us

This is a live stream from Twitter - not the voice of thebestof!

find us on facebook