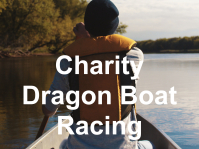 A Day of Dragon Boat Racing will take place at Regatta Meadows, Riverside Park, St Neots - Saturday 19th August 2017. With bankside family entertainment in aid of local charities! Why not join us?
Charity Dragon Boat Racing - St Neots
On Saturday 19th August 2017
 10am - 5pm
The River Ouse, Regatta Meadows, Riverside Park. St Neots.
FESTIVAL PROGRAMME
More than 21 crews from locally based companies and organisations are expected to battle it out in 30ft brightly painted Chinese dragon boats over the 200m course, watched by thousands of spectators.
Each crew has up to 10 paddlers, a beating drummer at the front of the boat and a steering helm (provided by the organisers) at the tail end.
For families there will be food and drink outlets with some music and entertainment throughout the day
Why not get involved and enter a team?
"If you are interested in entering a team, or would like more info email: events@stneots-tc.gov.uk
The event is being held to raise money for loacl charities Money raised will also be put towards local charities supported by the Rotary Club and Mayor of St Neots
*thebestof cannot be held responsible for any changes, amends or cancellations of an event
Contact us: 01480 388911

visit us

River Ouse
Regatta Meadows
Riverside Park
St Neots
Cambs
PE19 2BH

follow us

This is a live stream from Twitter - not the voice of thebestof!