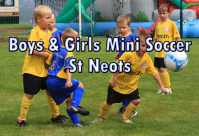 Come and have a go at football with Priory Parkside FC. Mini-Soccer means all players get to kick the ball, Even if they have never played football before! The Club is FA-Charter standard, with FA Level 1 coaches, who have CRB-ed & First Aid trained. Saturday mornings for 10 weeks. Saturdays 18th March until 6th May 2017
MINI SOCCER FUN SESSIONS - PRIORY PARK ST NEOTS
4 - 8 years olds
Every Saturday from
18th March until 6th May 2017
Priory Parkside Colts FC & R & D Coaching are once again running MINI SOCCER FUN SESSIONS held on Saturday mornings 9.00am - 10.30am at Priory Park, St. Neots.
 For a prompt start register at 8.50am please.
 Our invitation is to those aged between 4 and 8 on the date of the first session, so this means Reception to Junior year 3 and will be running for a 10 week period. With small teams playing 3 games of 20 minutes, each player has more time on the ball. The result is that players can develop their football skills whilst having a great deal of fun.
Players will be divided into year groups, 
The advance fee is £30 for the Ten-week programme
Alternatively, the fee for payment on a weekly basis will be £4, however we may have to limit numbers and can only guarantee a place for those players who have returned the £30 payment!
Please do not park in Eat N' Bowl car park
Please bring Shin pads....
*thebestof cannot be held responsible for any changes, amends or cancellations of an event
Contact us: 07701068430

visit us

Priory Park,
Huntingdon Road
St Neots
Cambs
PE19 1AA