Bungee Jumping in St Neots
The Watersports Centre
Wyboston Lakes
St Neots
Bedfordshire
MK44 3AL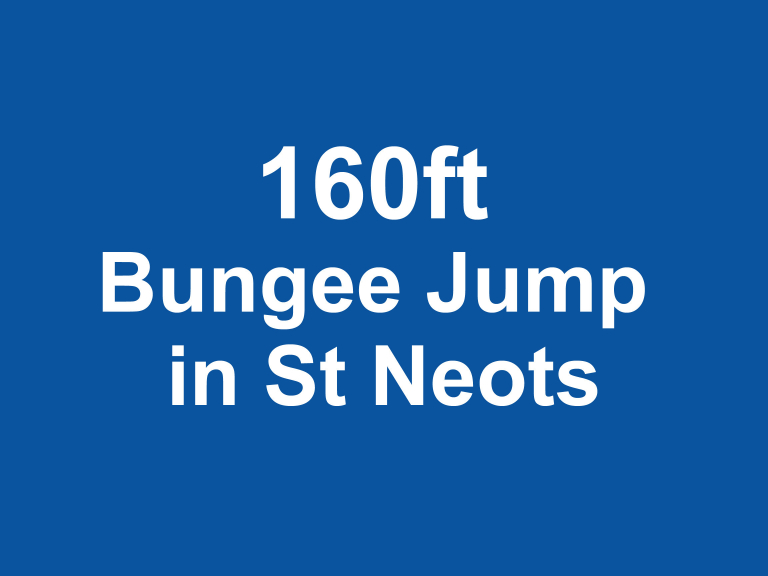 Fancy doing a 160ft Bungee Jump in St Neots? Well here is your chance - Ride Leisure Events at Wyboston Lakes have several dates for you to book... Saturday 11th March 2017 Saturday 8th July 2017 Sunday 9th July 2017 Saturday 11th November 2017
Ride Leisure St Neots are delighted to have teamed up with UK Bungee,the market leader for bungee jumping in the UK, to offer you the 160ft Bungee Jump.
Feel the adrenaline rush as you take the leap of faith into the air below and experience the unique experience of bungee jumping as you are pulled back skywards by the bungee cord! Once you have jumped, not only will the adrenaline continue through your body but you will also feel a euphoric sense of achievement with the knowledge that you have jumped with nothing more than an elastic band to save you!
You can redeem this voucher at Ride Leisure on the following dates:
Saturday 11th March 2017
Saturday 8th July 2017
Sunday 9th July 2017
Saturday 11th November 2017
Please arrive 30minutes prior to your jump time and allow 2-3 hours for your jump to allow for any delays that may occur on the day.
Restrictions
14/15 year olds need parental consent on the day
16 to 50 anybody can jump
Over 50 and a doctors certificate is required
Health Warning Notice
If you are not in good health you should not jump. You should seek medical attention before jumping if you have any of the following conditions:
High Blood Pressure
Heart Condition
Suffer from Dizziness or Epilepsy
Damage to neck, back, spinal column, legs or eyes
Asthma 6. Pregnancy
Alcohol – If you appear intoxicated you cannot jump
Medication – please inform our partners if you are taking any form of medication.
Future dates
Sunday 9th July
Saturday 11th November