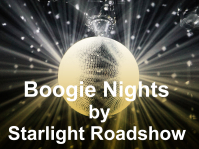 Boogie Nights by Starlight Roadshow - Always a great night out with sounds from the 70's, 80's and 90's at Burgess Hall in St Ives Saturday 6th May 2017
BOOGIE NIGHTS!
BURGESS HALL ST IVES
Saturday 6th May 2017
 Music from70's,80's & 90's with'STARLIGHT ROADSHOW'
Starlite Roadshow present their incredibly popular Boogie Nite, the biggest and best 70's,80's & 90's disco in the area. Dress up and dance the night away to some classic tunes from a time when people just wanted to have fun. Music video projections and text requests. 
Over 18's only.

8pm - 1am
(no admission after 10pm)

Tickets £8 (In advance)
Tickets from One Leisure St Ives on 01480 388500 or via One Leisure Online Bookings
*thebestof cannot be held responsible for any changes, amends or cancellations of an event
Contact us: 01480 388500

visit us

Burgess Hall
Westwood Road
St Ives
Cambs
PE27 6WU

find us on facebook