St Neots Town Team Meeting - Improving St Neots
19th February 2013
... Comments
---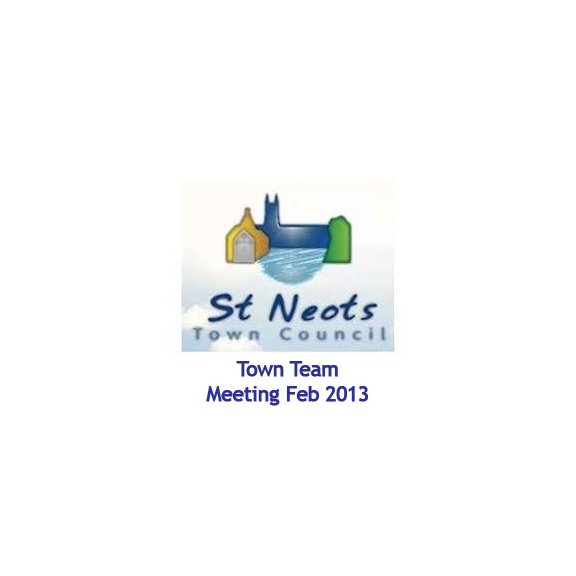 St Neots Town Team Meeting.
This morning I attended the St Neots Town Team Meeting organised by St Neots Town Council.
More than 70 town centre stakeholders joined the Town Team meeting at the Priory Centre on Tuesday 19 February, 8am-9.30am to discuss and identify deliverable projects to improve St Neots Town Centre.
Attendees included:
Local business owners
Resident associations
Clubs, school and council representatives.
This meeting was to get our input as to how we can best use a £10,000 award from the Mary Portas appeal to increase people / footfall into St Neots..
Attendees at the meeting shared experiences and ideas on key themes affecting the town centre:
Marketing
Events & Leisure
Access & Environment
Safety & Security
Each group looked at case studies and decided which will have the greatest impact on the town and should be the top priority.
After 90 mins of some excellent ideas and suggestions from 4 focus groups each topic was rated for priority and impact on increasing the popularity of our town.
Some of the top project ideas identified at the meeting include:
Introduce more parking offers throughout the year i.e. the Free after 3pm initiative
Develop a Town Promotion Website and Town Centre APP
Grow an Entrepreneur for tomorrow – encourage existing retailers to support start-ups and offer pop up shop opportunities to new businesses.
Encourage further support of the Huntingdonshire Businesses Against Crime scheme (HBAC)
Develop the Night Time Economy with family friendly attractions
Make St Neots a Town of Markets (increase variety)
Organise more town centre themed treasure trails i.e. East Egg Hunts
Organise an Inside Out Event – retailers come out of their shops and promote their services/products in the market square.
Transform derelict vacant units with virtual shop windows
Introduce lamp column banners along the high street promoting St Neots
Suggestions forms were also filled in by attendees and over the next couple of days Katie Williams (Town Centre Manager) will draw up a list of the top priority areas.
Project costs and the feasibility of each initiative will then be explored in more detail.
Meetings with the identified steering groups will then be organised, to work on specific projects over the coming months.
Hopefully exciting times lay ahead for St Neots!