St Neots Rowing Club News Decmber 2014 - Great junior success
16th December 2014
... Comments
---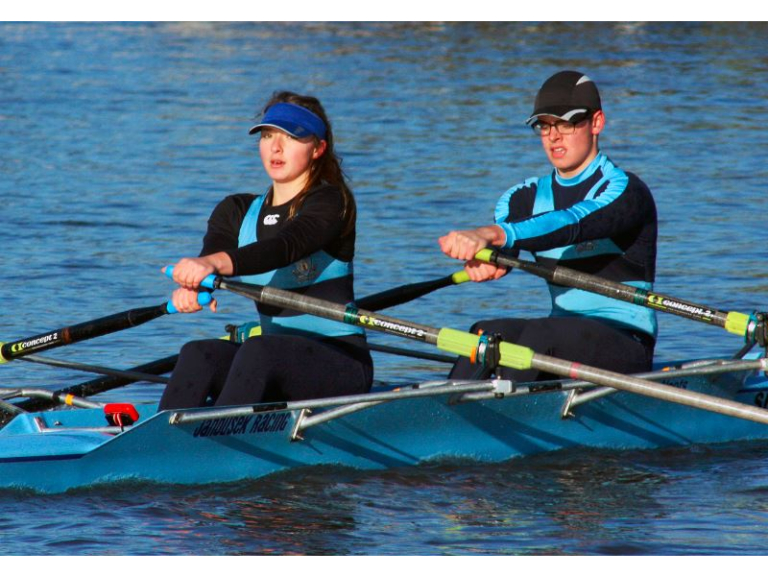 A win plus a hat full of great results for St Neots Rowing Club at Walton Small Boats Head 2014
Clear blue skies and near freezing conditions were the order of the day as the junior team from St Neots Rowing club scored a win in the mixed doubles plus some very some strong results at the Walton Small Boats Head 2014 which was hosted by Walton on Thames Rowing club on Saturday December 13th.
The 3 kilometre time trial format event which attracted over 600 entries in singles, doubles and pairs was contested by 6 members of the St Neots Rowing Club junior squad.
In the double sculls Molly Harper and Kate Lyster teamed up for the WJ162x and Adrian Vuylsteke and Louise Shorten took on the IM2 mixed double with Vuylsteke also competing with Nick Shorten in the mens double category.
For the single sculls, St Neots fielded Jordan Beale in the J15, Kate Lyster in the WJ16 and Louise Shorten took on the WIM3.
Given the size of the field, somewhat choppy conditions at times and the strong river currents, the day saw a large number of capsizes which were speedily dealt with by the organiser's well drilled team of rescue boats. Despite some close calls, thankfully all of the St Neots contingent managed to stay upright.
Adrian Vuylsteke and Louise Shorten pulled of an impressive win in the mixed double category, the first time the pair have rowed together competitively. Nick Shorten and Adrian Vuylsteke took second place in the men's IM2 double scull category with a time of 10 minutes and 1 second. Kate Lyster and Molly Harper came third in the WJ162x, pipped by just 2 seconds by the pairing from Wallingford Rowing Club. Kate Lyster also managed a third place in her WJ16 single. Louise Shorten placed 5th in her WIM3 and the newest member of St Neots Rowin Club competitive stream  Jordan Beale placed a creditable 8th in J15 single scull.