St Neots Town Football Club partnership with Norwich City Football Club
25th March 2013
... Comments
---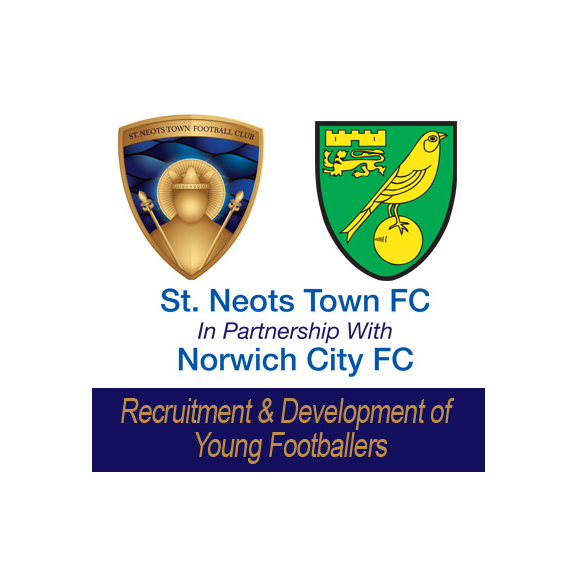 Partnership of St Neots Town Football Club & Norwich City Football Club
St Neots Town FC is very excited to announce that the club have signed a contractual agreement to work in Partnership with Norwich City FC to identify, recruit and develop talented young footballers.
The Partnership will also encompass a program of support for our coaching staff, opportunities for our own young footballers to be part of a Premier League Academy environment (based at the Rowley Park, The Cozy Stadium) and also ensure that those who are identified as having the talent are given the opportunity to progress.
St Neots Town FC will also benefit hugely from working closely with Norwich City FC to aid our own ambitions and to continue our progression up through the football pyramid.
Lee Kearns MD "It cannot be overstated how important the Partnership with Norwich City FC is to St Neots Town FC. It should be viewed as a statement of intent to our continued commitment to grow and develop St Neots Town FC as a brand, a business and most importantly as a highly ambitious football club. I would like to thank Norwich City FC for this fantastic opportunity"
Iain Parr First Team Manager/Head of Football "Any Ambitious Football Club needs to have the foundations in place that enables you to build a successful Club both on the pitch and off the Pitch. A Partnership with Norwich City FC speaks volumes about our club (St Neots Town FC) and how we go about our business. Our Commitment to take St Neots Town FC forward and our long term objectives are there for all to see"
Ricky Martin, Norwich City Academy Manager "Norwich City are delighted to agree a long term working agreement with St Neots Town FC, which will allow our academy to utilise the magnificent facilities at Rowley Park as a recruitment hub for East Anglia. St Neots Town are looking to build their club with the same objectives as our Academy, and we look forward to working with them at all levels from grassroots through to the progression of their first team. I would like to thank their MD Lee Kearns for giving us this opportunity".