New Saints Boxing Club - Newsletter
What a whirlwind the last 6 months have been! Things have changed so much since the first 6 juniors walked through the door on 5 October last year to where we are now on the 1st April.
Hopefully you will have been keeping tabs on us via social media and the website but we felt it was important to give you, as the first backers of the boxing club through your sponsorship, a more personal update on what's been happening and where we hope to take the club in the future.
In just this short space of time we have over 130 fully registered members with, on average over the last 4 weeks, 84 juniors and 82 seniors accessing the gym each week. If ever there was evidence that a boxing club was needed in St Neots the numbers prove it. We have members from all over St Neots but also as far away as Stevenage, Royston and Peterborough who want to be a part of what New Saints stands for.

BOXERS
We already have a fully registered squad of 18 boxers ready to wear the New Saints vest and represent the club in national competition, and we have more waiting in the wings. Not bad going for a brand new club! We've already been seen at shows in Bar Hill, St Ives, Peterborough and 2 shows in Essex with the supervisor in charge of one show complimenting us on "having tidy boxers for such a new club on the circuit". Which was lovely to hear for our coaches. And of course our first win coming courtesy of Nathan Buckley, one to watch in the future.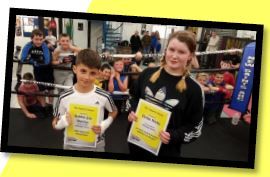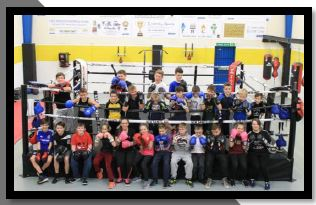 FUNDING
Your support went a long way to get us started but the efforts continue as we look to improve facilities at the club and also replace and repair fast-wearing equipment as needed.
We recently secured funding for additional gym matting, which we laid back in February. This now covers about 3 quarters of the gym, making it much easier to train on and much safer for all users. Hopefully through other funding streams, which we are in the process of applying for or waiting to hear about, we can get the whole floor covered and continue to make improvements.
We have converted office space to basic changing rooms through a generous private donation, and hopefully with further investment we can get these up to commercial standard. If we do, they can be used as a preparation area as well as changing rooms, with gym shows in mind for the future.

THE FUTURE OF NEW SAINTS
None of us can ever be sure of what's to come but the way things are going we will safely survive the first year, which is the hardest in any venture, and continue to work hard to secure the future of this much needed community boxing club.
We are pleased to announce to you first that we have agreed to work in partnership with Cambridgeshire Police over the next 12 months, with a dedicated class for young people who have been involved in anti-social behaviour/youth crime. Boxing is proven to make a difference to many young people, and such collaboration should help secure the future of the club.
Getting our first club show on is never far from our minds. We have the potential to hold these in-house, a gym show, and there is also the option of holding something more elaborate like dinner shows at a local venue. We very much hope to have the first show on within the year so that we can really announce New Saints ABC.
It's a lot of hard work, as you know from running your own businesses, and we all do this voluntarily around full time jobs and family lives. It's not been without its stress and low points, but every time we step into the gym and see everyone training hard, the improvement week by week and the smiling faces, it gives us the biggest buzz, making opening our doors each night easy.
Please drop in and see us anytime, no need to wait for an invite. We'd love you to see how things are going for yourself.
Best wishes, Kev, Jo, Jordan and our growing number of Volunteers