FUNDING SECURED FOR ST NEOTS HIGH STREET
28th August 2019
... Comments
---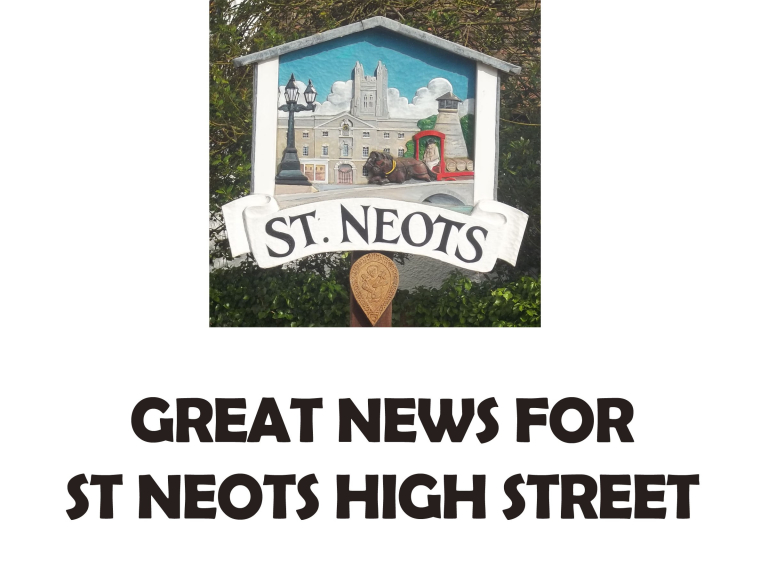 FUNDING SECURED FOR ST NEOTS HIGH STREET
On 26th August 2019, the Ministry of Housing, Communities and Local Government announced that St Neots has been selected as one of 50 towns that will benefit from share of the £1 billion Future High Streets Fund. The scheme was launched in December 2018 and is a key part of the Government's plan to renew and reshape town centres and high streets in a way that drives economic growth and sustainably improves how people use them.
Huntingdonshire District Council (HDC) submitted an application to the fund, in collaboration with the local partners of the St Neots Masterplan Steering Group. The bid outlined the challenges facing St Neots' High Street and Town Centre and seeks to set out the opportunities that could be explored and captured to drive future success of the Town in response to national trends on the changing role of High Streets. This has resulted in St Neots being shortlisted and selected as one of the 50 towns for the Future High Streets funding for reimagining town centre use and revitalisation.
Ryan Fuller, Executive Councillor for Housing, Planning and Economic Development, said: "Investment in St Neots is a perfect fit with the Government's priorities for this fund, and mirrors exactly how we want to develop our market towns in the District. As the largest town in Cambridgeshire, St Neots was the first town in the county to develop its own Masterplan for Growth and I am pleased that we have secured the chance to deliver continuous and sustained improvements and investment.
"Recognising the different challenges that face each of our market towns, specifically their high streets and town centres, is a strong priority for Huntingdonshire District Council and we will continue to explore additional avenues of supporting their vitality and viability."
The Chair of St Neots Masterplan Steering Group, Councillor David Wells, said: "This is really good news for St Neots. The funding will enable us to build on the work of the Masterplan in developing St Neots as an attractive place for all to live, work and enjoy life. We are looking forward to working with the fund to further develop a vibrant town with additional community, leisure, commercial and retail space."
The successful towns will receive up to £150,000 to explore and support potential detailed development project proposals that can be submitted for capital funding.