Fun Spring Quiz starting 5th April - St Neots Library
31st March 2014
... Comments
---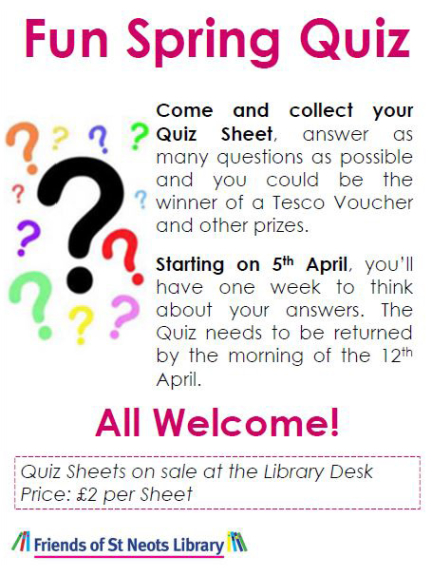 Friends of St Neots Library - Fun Spring Quiz starting 5th April
As part of our Events Calendar for 2014, the Friends of St Neots Library are holding a new Fun Spring
Quiz starting on the 5th April at the Library.

Every year the team works on a Fun Quiz to raise community awareness of the Library's facilities and
services in a way everyone can enjoy - and maybe win a prize.
Last year we did a Food based Quiz,
but this time our Quiz volunteer members decided to focus on Spring as our main theme.
Topics are going to include questions about animals, flowers and songs and will interest all ages from the very young through to the most senior members of the family. So, everyone is welcome to participate!

The Quiz starts on Saturday, 5th April and will last one week until next Saturday, 12th April.
"We are giving a whole week for completion this time, so people can come and pick up a Quiz Sheet
whenever suits them best, take the questions home ( or do them there and then if they prefer) home, think about their answers or just do it together as a family.
We want this to be a fun experience which everyone enjoys", say Joan Garratt and Margaret Rowland – our Quiz creators.

Did you know that the etymology of the word "Quiz" is first cited from 1781 and means an odd
person? Also, the Oxford English Dictionary attests the use of the verb "quiz" to mean to question or
interrogate; the Quiz as a test could be a corruption of the Latin "Qui es", meaning "Who are you?"….
so, we ask you: Are you going to be the winner?
Prizes include a Voucher kindly donated by our sponsor Tesco Eynsebury store and a selection of
books. Don't miss it!
Quiz Sheets on sale at the St Neots Library Desk
Price: £2 per Sheet