Cambridgeshire Royals Dragon Boat Team - News Sept 2016


The Cambridgeshire Royals Dragon Boat Club are celebrating after being confirmed as the fourth place finishers in the Premier League at the last British Dragon Boat Association (BDA) League event of the year at Worcester on Sunday 11 September.
This was the first year in this top division for this young team, who stormed into the dragon boating world just three years ago. The team gained promotion to the premier league at the end of their first full year as a standard crew - and this year the aim was simply to stay in the premier league - but to finish fourth overall in what is only the 2nd full year of racing is just something else.
The Royals at Worcester were unbeaten in their 200m heats and went on to take first place in the minor cup final, just missing out on a place in the major cup final against the top three teams in the country Amathus, Wraysbury and Typhoon.
In the 1800m pursuit races the Royals took control of their race, chasing down Nottingham based Notts Anaconda to overtake them, and finish in a time of 9.51.13 and secure a place in the 1800m cup final. The Royals held their own against the same three faster teams in the final, preventing them from overtaking, and with sheer determination and effort, paddled to a fourth overall finish, clocking up a time of 9.06.45.
Placings in the 200m open race and the 1800m also meant amassing enough points to smash through the 100 points barrier to finish in fourth with 101 points for this season.
The team are now waiting to hear how they finished in the shadow mixed league. They were laying 2nd going into the event, but a last minute crew change meant that they didn't have the correct ratio of women to men in the boat, and they pulled out of the mixed league for the 200 metres. However, following a quick shuffle around on crew numbers during the lunch break, the team went on to take part in the 1800m races as a mixed crew, in addition to competing as an open crew. The team are now waiting for official confirmation to see if the points earned during the afternoon will still be enough to finish in 2nd place in the mixed league.
Team Manager Paul Saywell, said: "What an amazing season, yet another dawn start with a fully committed bunch of people that just love being part of an incredible dragon boat team. A mixed crew of ladies and gents, with juniors also regularly being selected for our premier league team, competing with the best this country has to offer in this sport and generally against all male crews. Yet again proving our 4th place in the premier league is no fluke, but a deserved place earned by all that sit, stand or drum in our boat.
"With over 20 experienced teams underneath us I am extremely proud to
be the manager of this team, full of very passionate people with a huge will to win, constantly giving their all for themselves and more importantly their team mates.
We were unbeaten again in all our heats and this put us in the minor cup final, yet again this team found something and delivered the goods, We all agree in our team that winning is much more fun than losing, and we're here to have fun.
"We have an outstanding paddler of the day today, 14 year old junior member Thomas Evans, who is regularly picked for our race team. Since proving his place in our boat time and time again, with a brilliant performance and great attitude as a team player - this was well deserved. Thomas has recently been spotted by GB team scouts to train for Great Britain juniors in preparation for the world championships next year in China, so watch this space!"
The Royals junior team showed promise by competing in the combined junior and ladies event, where they went on to beat a couple of the ladies teams. In addition to the junior racing event, the youngsters were invited by Milton Keynes based team Secklow to join them in creating a 2nd team for the main race events, giving them a full day's paddling and valuable race experience.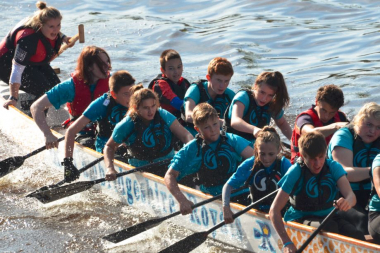 Junior Coach Brian Samuel, said: "I am delighted to see how our Juniors are getting better and better with each race event that they attend. I remember at the start of the season where they struggled to keep up with the ladies teams in racing, and now here they are beating some of them."
The Royals now have a two week break before the two day National Finals, held at the Nottingham Water Sports Centre, where they will be looking to take on the top three teams and further stamp their mark on the dragon boating world.