For an exceptional standard of cat and dog grooming in the St Neots area - Canine Complete Care is the place to go for amazing service and outstanding care.
If you're looking to pamper your pooch or Cat then Canine Complete Care in St Neots is for you!
Call: 07305 932690 to book..
Based in the outskirts of the village of Offord Cluny, in the grounds of Northbrook Equestrian Centre in a purpose built cabin with all new equipment, this quiet and rural location has plenty of parking. You can even enjoy a quiet farmland dog walk in the surrounding area. 
About Canine Complete Care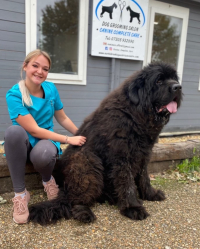 Run by Andrea, an experienced horsewoman and dog owner with many years of experience, Canine Complete Care offers an exceptional standard of dog grooming. Andrea is passionate about the wellbeing and care of animals, ensuring that your four legged member of the family is treated as one of her own. Co-manager and groomer Ellie is fully qualified and has vast experience in dealing with all types of dog breeds and cats. 
From the moment you and your 4 legged friend step into the premises, you'll be welcomed into a relaxing environment, where co-manager and groomer Ellie will give your dog lots of fuss and attention while in her care. Ellie's calming nature and exceptional patience has been known to put the most anxious of animals at ease, so if your dog or cat is a rescue or of nervous disposition, she'll help them settle in and learn to relax.
Animal welfare is incredibly important at Canine Complete Care, and the salon is particularly proud of their official local authority 5 star rating for the centre.
Services
Standard full grooms
The full monty of dog grooming!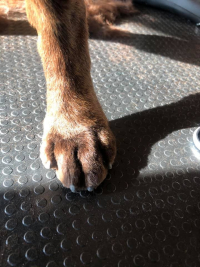 The session will begin with a really good bath with two shampoo sessions. This is then followed by a blow dry and brush out, removing any tangles or knotts to get the dog's coats dry and silky.
Trimming and clipping to your personal specification, whether that be to show style, pet style or anything else. Claws will also be clipped if needed, feet trimmed and the coat between the pads clipped out. Ears are also cleaned and trimmed, as is hair around their eyes, and the genital area is also carefully tidied.
To finish off, there'll be a little spritz of perfume for the ladies and cologne for the gents.
Handstripping
This particular method involves removing dead hairs from the coat by hand instead of clipping to keep the coat tidy and healthy. 
It requires a suitable coat, as well as the correct temperament and condition. We recommend that you don't bath your dog after being hand stripped as this technique leaves the pores open once the hair has been removed. Aim to bath around 3 days before or after hand stripping has been carried out.
Bath, blowdry and wash out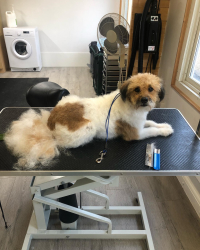 If you're just looking to freshen up your dog between grooms, especially if your dog needs a bath and de-shedding, then this is the right service.
It will help keep your dog's skin in good condition and mean you have less shedding around the house!
It's the perfect solution if you take your dog on lots of walks along the farm tracks and fields. Your dog will be thoroughly blow dried and brushed out, and left smelling all clean and fresh again.
Extra services available:
Anal glands upon request.
Pawdicures with moisturising paw balm.
Relaxing treatment of a blueberry facial.
Puppy package
Those first days with a new puppy in the home are extra special, and form the foundations of your lives together as a family unit.
The initial stages of training and socialisation are vital, and that's the reason why Canine Complete Care offers a 'Puppy Package'. 
This package aims to ensure that puppies feel happy and confident at each and every trip to the groomers. The 6 session course includes socialising puppies in a fun and relaxed manner using toys, helping them adapt to be happy in the salon environment.
---
Canine Complete Care | Superb Dog and CAt Grooming St Neots
Offord Cluny | St Neots
For appointments call: 07305 932690 
When contacting Canine Complete Care for cat and dog grooming please  let them know you found them on The Best of St Neots